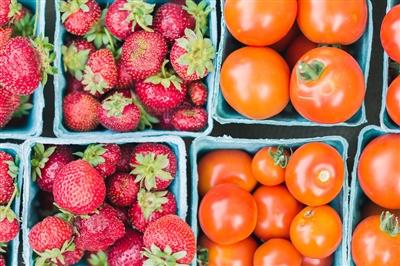 Nearly half of adults in Southeast Pennsylvania don't consume the recommended amounts of fruits and vegetables each day. And in Philadelphia, this is especially true for many lower income communities—specifically African Americans—who do not have access to healthier food options as well as quality care. In many cases, these same communities also suffer from high rates of obesity, diabetes, hypertension and other conditions related to diet and nutrition.
"There are a lot of reasons why these communities do not receive the ideal seven to nine servings of fresh produce each day," says Chinwe Onyekere, MPH, system director of health equity and graduate medical education at Main Line Health.
Onyekere, who helps develop community programs that serve the West Philadelphia community, says that infrastructure, affordable and consistent quality of produce in neighborhood stores, and distance can play a huge factor for community members' accessibility to healthier food options.
With 26 percent of West Philadelphia's residents experiencing limited access to healthy food within commutable distance, it's no surprise that food insecurity is an issue. Lankenau Medical Center, which is a stone's throw away from West Philadelphia, offers several programs that keep community members informed and encourage them to maintain healthy lifestyles.
"Lankenau sits on 93 acres of land, so with the leadership and direction of Phil Robinson, president of Lankenau, we thought, 'How can we utilize these assets to better reach our patients?'" adds Onyekere. In addition to campus services such as an education-oriented produce farm and a mile-and-a-half walking trail for exercise purposes, there are several innovative, off-campus programs that community members and patients can use.
"Main Line Health's mission is to meet the health care needs and improve the quality of life in the communities we serve. In order for us to be successful, we must understand the unique health needs of every member of our community, and that includes acknowledging where disparities of care exist and how we can close these gaps," says Jack Lynch, President and CEO of Main Line Health. "By virtue of its location bordering Montgomery and Philadelphia counties, Lankenau Medical Center serves a very diverse patient population. It is with this in mind that we have worked with our community partners to develop several new initiatives that improve access to care, including Together for West Philadelphia, our Heart Smart Corner Store program, Philly Food Bucks, and the Medical Student Advocate Program."
A farm education program that helps kids and patients
Working in partnership with Greener Partners, the Deaver Wellness Farm is a year-round education and produce farm on the grounds of Lankenau's campus. "The farm serves as a 'living laboratory' to around 7,500 to 10,000 kids so that they can have a hands-on experience of how food is planted, harvested and most importantly, how it tastes," says Onyekere.
Since 2016, more than 13,000 pounds of produce have been donated to patients, free of charge, to support healthy eating habits and provide fresh food for those who have trouble accessing it.
Meeting community members where they are with services they need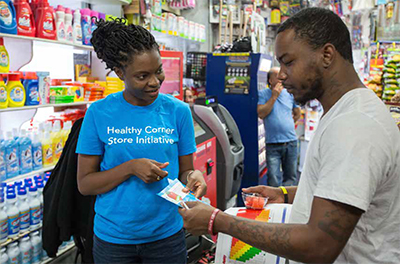 Lankenau's Heart Smart Corner Store initiative offers free health screenings and education on healthy eating habits and heart disease prevention at select West Philadelphia corner stores. Health professionals conduct screenings for blood pressure and BMI on a monthly basis, while healthy eating classes include taste tests and cooking demonstrations. This program allows community members to receive health education in their own neighborhoods without having to travel great distances, while also connecting potential patients to primary care resources.
Transforming waiting rooms into pop-up health and nutrition sessions
"When patients come to see their primary care physicians, we use the waiting room as an opportunity to teach them how to prepare fresh fruits and vegetables," says Onyekere. "It's a chance to engage patients and their families with health and nutrition education."
Known as "pop-up classes," patients learn nutritional information and participate in food demo classes while waiting to see their doctor. With bags of free food from the Deaver Wellness Farm, patients are invited to try new recipes at home.
Buying healthier food options with Philly Food Bucks
In partnership with The Food Trust, Philly Food Bucks give patients $10 to redeem at more than 20 farmers markets throughout Philadelphia. The initiative also encourages patients and community members to shop for fresh fruits and vegetables, offering them the chance to try healthy food options at no cost.
If you're interested in learning more about Lankenau Medical Center's Community Health Services, call 484.476.3434 or get in touch online.