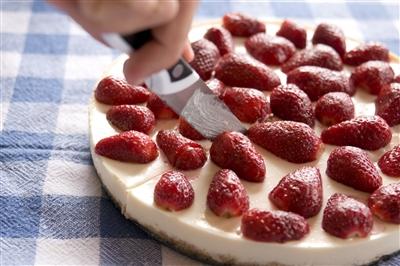 Servings: 8 slices
Ingredients
For crust:
1 cup rolled oats
½ cup toasted coconut
½ cup walnuts
2 tablespoons butter (melted)
1 tablespoon maple syrup
For cheesecake:
2 cups part-skim ricotta cheese
1 tablespoon flour
2 eggs
1 tablespoon maple syrup
¼ cup sugar
1 teaspoon vanilla
1 cup strawberries (sliced)
Instructions
Heat oven to 350 degrees. In a food processor, add the oats, coconut, walnuts, butter and 1 tablespoon maple syrup. Process until well blended. Spray a spring form pan, or pie dish, with cooking spray. Spread crust ingredients in the bottom of the pan or dish, press down with back of a spoon until evenly spread out. Bake for 10 minutes. Set aside.
Wipe out the food processor and the add ricotta cheese, flour, eggs, syrup, sugar and vanilla. Process until smooth and creamy. Pour the cheese mixture on top of baked crust. Bake for 35–40 minutes. Allow cake to cool on wire rack then top with sliced strawberries. You could use any berry (blueberries, raspberries, blackberries or a combination of all of them).
Nutrition note
A slice of strawberry cheesecake from the Cheesecake Factory weighs in at 730 calories and 29 grams of saturated fat (that's two days' worth!). Using part-skim ricotta cheese and skipping the cream cheese gives this cheesecake a much lighter edge. You'll also get extra protein, less sugar, an oatmeal crust and almost a serving of fruit so you could eat this dessert for breakfast.
This recipe is courtesy of our friends at Athens Nutrition, a team of registered and licensed dietitians based in Ardmore, Pa. To view more recipes from Athens Nutrition founder Judy Matusky, visit judymatusky.com.
Tune in on Wednesday, February 27 for a Facebook Live event with Athens Nutrition nutritionist Gretchen Skwer, RDN, LDN and Lankenau Heart Institute cardiologist Mara Caroline, MD. Dr. Caroline and Skwer will be preparing a heart-healthy dish and offering nutrition tips for Heart Month.