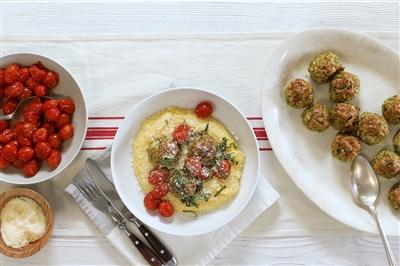 Prep time: 10 minutes
Cook time: 30 minutes
Ready in: 40 minutes
Serves: 4-6
Ingredients
For meatballs:
1 pound ground chicken, lean
2 ounces fresh spinach, finely chopped
1 large egg, lightly beaten
½ cup panko breadcrumbs
½ cup grated parmesan cheese, plus more for garnish
2 cloves garlic, minced
½ small yellow onion, finely chopped
½ teaspoon kosher salt
¼ teaspoon black pepper
For tomatoes:
2 pounds cherry tomatoes
2 tablespoons olive oil
½ teaspoon kosher salt
Fresh basil, sliced thin, for garnish
For polenta:
4 cups water
1 teaspoon kosher salt
1 teaspoon black pepper
1 cup polenta
½ cup nonfat plain greek yogurt
You can reduce the amount of salt you use for low-sodium diet, or use a salt-substitute.
Instructions
Preheat oven to 400ºF. Line baking sheet with parchment paper. Add all ingredients for meatballs in large bowl and gently mix until just combined. Roll meatballs into golf ball-sized spheres and spread evenly on prepared baking sheet. Bake for 25–30 minutes, until cooked through.
Toss cherry tomatoes with tablespoon olive oil, kosher salt and pepper and spread evenly on rimmed baking sheet. Roast in oven alongside meatballs for 25–30 minutes, until blistered and beginning to burst.
While meatballs and tomatoes bake, add water and salt to large saucepan and bring to boil. Once boiling, add polenta and return to boil, whisking continuously. Once boiling, reduce heat to low, cover and let cook for 25 minutes. Remove from heat and stir in greek yogurt. Divide evenly among serving bowls.
Serve meatballs over polenta and top with roasted tomatoes and their juices. Garnish with basil and parmesan.
Nutrition facts (per serving)
Servings: 6
Calories: 305
Total Fat: 12.2g (16%)
Saturated Fat: 3.3g (16%)
Cholesterol: 81mg (27%)
Sodium: 1000mg (43%)
Total Carbohydrate: 17.9g (6%)
Dietary Fiber: 2.6g (9%)
Total Sugars: (9g)
Protein: (33g)
Vitamin D: 3mcg (15%)
Calcium: 270mg (21%)
Iron: 2mg (9%)
Potassium: 867mg (18%)
*The % Daily Value (DV) tells you how much a nutrient in a food serving contributes to a daily diet. 2,000 calorie a day is used for general nutrition advice.