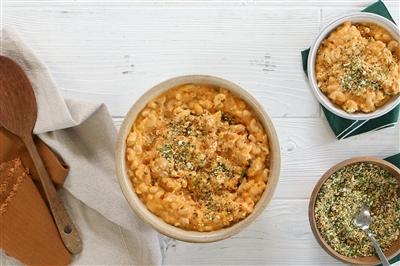 Prep time: 10 minutes
Cook time: 15 minutes
Ready in: 25 minutes
Serves: 4-6
Ingredients
16 ounces whole wheat dried elbow macaroni, or similar shape
2 medium sweet potatoes, peeled and chopped into ½" cubes (about 4-5 cups)
½ cup sliced almonds, toasted
½ cup fresh parsley, chopped 
1 ¼ cups Parmesan cheese, grated, divided
1 clove garlic, chopped 
¾ cup nonfat Greek yogurt
½ cup reduced-fat (2%) milk
1 teaspoon kosher salt
½ teaspoon black pepper
1 tablespoon adobo sauce from canned chiles with adobo
1 teaspoon olive oil
2 cups sharp cheddar cheese, shredded
Instructions
Bring 4 quarts of salted water to a boil in a large pot. Cook pasta al dente according to package directions. Drain and set aside, reserving 1 cup of the pasta water.
Meanwhile, bring a large sauce pot of water to a boil. Add sweet potato and cook for 10 minutes until tender. Drain and allow to cool slightly.
While sweet potatoes and pasta cook, combine almonds and parsley in food processor and pulse until finely chopped. In a small bowl, combine ¼ cup Parmesan cheese with the almond and parsley mixture and set aside until ready to serve.
Combine cooked sweet potato, garlic, yogurt, milk, salt, pepper, adobo sauce, and olive oil in blender. Add ½ cup pasta water, and blend until smooth. If sauce is too thick, add remaining pasta water ¼ cup at a time, until sauce is smooth and pourable. Adjust sauce to taste with more salt or adobo.
Pour sauce into same pot the pasta was cooked in and whisk in cheddar cheese and remaining Parmesan cheese over low heat until smooth. Stir in spinach until wilted. Remove from heat and add cooked pasta and stir until pasta is coated.
Serve immediately, topped with herbed almond Parmesan mixture.
Nutrition facts (per serving)
Servings: 6
Calories 646
Total Fat 14.9g (19%)
Saturated Fat 5.6g (28%)
Cholesterol 23mg (8%)
Sodium 852mg (37%)
Total Carbohydrate 97.6g (35%)
Dietary Fiber 13.2g (47%)
Total Sugars 11.3g
Protein 32g
Vitamin D 0mcg (1%)
Calcium 474mg (36%)
Iron 8mg (45%)
Potassium 298mg (6%)
*The % Daily Value (DV) tells you how much a nutrient in a food serving contributes to a daily diet. 2,000 calorie a day is used for general nutrition advice.