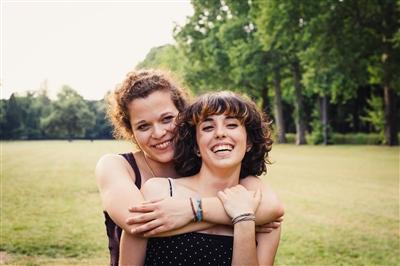 Returning to school after summer break can be anxiety-inducing for a child of any age or background. For a lesbian, gay, bisexual, transgender, queer or questioning (LGBTQ) student, it can be particularly distressing if sufficient supports are not in place. A gay youth who is "out," for example, may be concerned about peer acceptance and being able to express themselves naturally. A transgender student previously known to classmates as a girl, who has begun transitioning over summer to align with their male identity, may be scared that a teacher will accidentally call them by the name on their birth certificate, or by a pronoun that the child doesn't identify with. And while some schools have policies in place to protect LGBTQ kids, others do not.
LGBTQ kids often feel unsafe at school
Parents of LGBTQ children have the same concerns about their kids as everyone else. Will they make friends? Will they get good grades? Will they participate in school activities? Will they adjust academically and socially? But often with an added layer of concern because statistics show that LGBTQ kids are disproportionately bullied, harassed, and ostracized, which can lead to social isolation, behavior health issues, and self-destructive behaviors.
In the 2015 National School Climate Survey:
57.6 percent of LGBTQ students felt unsafe at school because of their sexual orientation, and 43.3% because of their gender expression.
31.8 percent of LGBTQ students missed at least one entire day of school in the past month because they felt unsafe or uncomfortable, and a tenth (10 percent) missed four or more days in the past month.
Over a third avoided gender-segregated spaces in school because they felt unsafe or uncomfortable (bathrooms: 39.4 percent; locker rooms: 37.9 percent).
Most reported avoiding school functions and extracurricular activities (71.5 percent and 65.7 percent, respectively) because they felt unsafe or uncomfortable.
Yet LGBTQ kids are at school to learn, grow and develop just like their peers.
Ways for parents of LGBTQ children to prepare for the school year
To help LGBTQ kids feel safe, supported, and free to go about school life and relationships, here are some back-to-school tips for parents:
Know your child's rights.Title IX is a federal law that protects against sex discrimination in any educational institution that receives federal funds, which is all public K-12 schools and many colleges. "Sex discrimination" encompasses sexual harassment and sexual violence. Even if a school does not have explicit policies about LGBTQ inclusivity, federal law protects a student's right to not be bullied or harassed, to have the same opportunities to participate in school life and activities, and to have a right to privacy.
Find out what the school district's LGBTQ policies are. Districts doing this well, says Joanne Glusman, social worker at Bryn Mawr Hospital and co-chair of the Bryn Mawr Hospital Diversity, Respect & Inclusion Council and Main Line Health's Diversity, Respect & Inclusion steering committee, are the ones that not only have written and publicly available policies for the safety and inclusion of LGBTQ students, but also have required education for all administrative personnel who come into contact with children, including school bus drivers. It's up to parents, teachers, school administrators and every person who interacts with children to be informed and educated, and prepared to speak up on behalf of the child.
Talk to the principal. Developing a relationship with the principal and/or appropriate school administrators and opening the lines of communication around your child's identity will help you feel more confident about sending your child off to school, knowing that there is a support system and awareness in place.
Get medical and psychological support. LGBTQ kids need nurturing from family members but may also need additional psychological support from within and outside the school. Be sure to introduce yourself and your child to school counselors and the school nurse, and work with a primary care doctor who has training in understanding the needs of LGBTQ children and adolescents. Main Line Health Inclusive Care is a good place to start. Our LGBTQ-friendly doctors and their staff have undergone extensive training and education to better understand the health needs and concerns of LGBTQ patients and to ensure that all patients feel safe and welcome in our offices.
If you have a transgender child, professional psychological support is critical to helping them transition successfully. "Make sure you're talking with a therapist who is knowledgeable and experienced with this subject," adds Glusman. "Working with a therapist can help your child individually while also helping you better communicate as a family. Having that support in place can help direct you over any road bumps you may come up to." Glusman also recommends Raising the Transgender Child by Michele Angello, PhD.
Find out about restroom and locker room options. Locker rooms can be agonizing for kids in general but may be especially so for a transgender student or a child who is gay. Any child who is uncomfortable changing in front of others, for whatever reason, should have the option of a private space in which to change and should not be required to use a nurse's bathroom (or worse, a broom closet). Talking with the school in advance and making sure the physical education teachers are informed and will be discreet about your child's choice will go a long way towards ensuring your child feels comfortable in the physical education environment. As Glusman points out, however, LGBTQ kids may feel that changing separately from others causes unnecessary attention. So be sure to talk with your child about what they prefer and decide together what will help them feel most comfortable and confident in that situation.
A transgender child will likely prefer to use the restroom with which they identify. While some schools may have implemented gender-neutral bathroom options, older schools or those with fewer resources may not have those in place. Create a plan in advance with the school principal and your child's teachers to ensure your child will be able to use the appropriate bathroom.
Empower your child. Discuss the topics in this article at an age-appropriate level. Give your child an opportunity to ask questions, express fears and concerns, and talk through anything that is worrying them. Help them learn to recognize signs of bullying or intimidation and encourage them to articulate uncomfortable feelings and experiences. Make sure they know whom to talk to if there is a problem they're unable to resolve on their own. Oftentimes kids don't turn to adults when they're having issues with other kids, for fear of being called a tattle-tale and getting their peers in trouble. Some children may want to work things out on their own without having so many "protections." Keep checking in with your child to see how things are going at school and make it safe for them to talk with you.
"Your number one job as a parent is to love your child unconditionally and to communicate that in words and actions," says Glusman. "'There's nothing you can say or do that's going to make me love you any differently—and, I always have your back.'"
Much of this advice applies to any parent who has a school-age child and all kids and families can benefit from greater inclusivity and understanding of differences. Learning to talk about LGBTQ people and topics in particular can help kids become better friends and allies in any situation. Adds Glusman, "The more we learn about each other and provide a welcoming space, the better it is for everybody, whether the child identifies as gender-different or not. Kids with learning differences, different abilities, kids who are taller or smaller—when we welcome difference in one capacity, it expands and helps everybody feel more supported."
Main Line Health serves patients at hospitals and health centers throughout the western suburbs of Philadelphia. To schedule an appointment with an LGBTQ specialist at Main Line Health, call 1.866.CALL.MLH (225.5654) or use our secure online appointment request form.
If you have LGBTQ-specific questions, please call 484.337.LGBT (5428) to leave a message on a secure and confidential phone line.