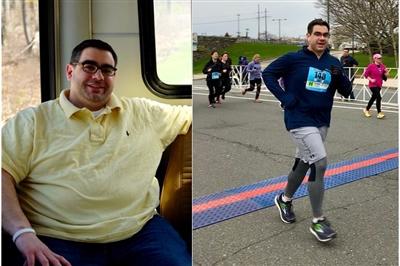 In spring 2017, John Abella had an appointment for his biometric screening—a mini-physical that many companies use to assess its employees' health status and offer appropriate health coaching and discounts for those who take steps to improve health factors like body weight, cholesterol and blood pressure. His results prompted a follow-up with his primary care doctor, who suggested that Abella commit to a regular diet and exercise routine.
Abella, like many others, had heard this advice before. But this time, he was ready to make a more concerted effort. "My wife and I were talking, thinking about a routine that we could realistically commit to as busy, working parents with a four year old."
The couple discussed a few options, and eventually settled on investing in some exercise equipment. Although they had a treadmill and home gym equipment, Abella admits that neither he nor his wife was using it as frequently or as intensely as they should have been. They started to consider the Peloton Bike.
The Peloton Bike, which originated at Peloton Cycle studio in New York City, was developed and sold after a Kickstarter campaign helped raise more $300,000 for the equipment in 2013. While the Bike is similar to other stationary bicycles, it offers riders the chance to participate in up to a dozen classes each day broadcast live from Peloton Cycle, competing against other riders from across the world to earn a spot on the class leaderboard.
It was a costly investment, but Abella knew that continuing down an unhealthy path could be costly, too. In April 2017, he and his wife purchased a Peloton Bike.
Finding his footing
On the first day of his new lifestyle, Abella started small with a 30-minute ride. After it was finished, he was exhausted. "I told my wife it was the most expensive mistake we ever made," he recalls.
But, as the days went on and his rides became longer and more challenging, Abella also found they got easier. He and his wife had been taking turns and alternating days on the bike, and now they found themselves wanting to ride on their days off, too. Even Abella was surprised at how much he enjoyed it.
"I'm a guy trying to lose a lot of weight. I wasn't going to go into a place where everyone is smaller than me and decked out in expensive workout gear. The Peloton Bike allowed me to exercise comfortably in my own home. I would wake up at 5:00 am, and be in a spin class with riders from across the country by 5:15," he says.
Abella wasn't the only one who noticed his progress.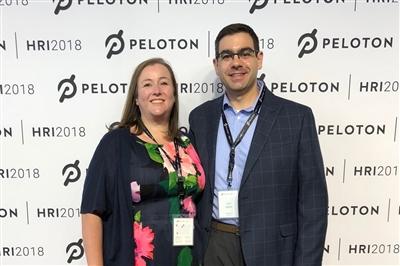 In spring 2018, he and his wife attended a once-a-year event hosted by Peloton Cycle. The event, called Home Rider Invasion, invites cyclers from around the world to the studio in New York for a live cycling class. Attendees have the chance to meet other riders, instructors and Peloton leadership. 
"During the class, my wife and I were assigned Bikes 1 and 2—we were at the front of the class and, in turn, the video feed," recalls Abella. "I had friends and colleagues from work texting me that they saw me at the front of the class. Now I have some friendly competition, when people I know choose that class from the on-demand menu and try and beat my leaderboard score."
From riding to running
After nearly a year of using the Peloton Bike, Abella was ready to add something new to his fitness routine and conquer a new exercise: running. He visited a local running store, where staff evaluated his running style and helped him choose a pair of running shoes. Immediately, he began training for a 5K using the Couch to 5K running training program.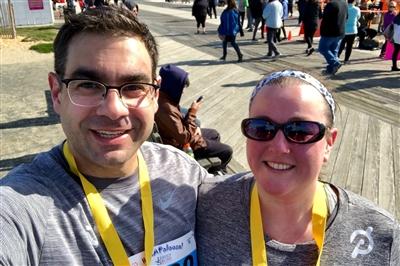 In March 2018, Abella completed Couch to 5K and, in April, he crossed the finish line during his first-ever 5K in Philadelphia. Shortly after, he improved his time at an Asbury Park, NJ 5K and signed up to race in Main Line Health's annual City to Shore Bike-a-Thon for the American Cancer Society.
"No one is going to confuse me for a marathoner or a really fast runner, but I'm getting started and I'm going to keep doing it," he says.
For Abella, the past year has been transformative. He's completed 150 spin classes and often finishes in the top 20 percent of riders on the class leaderboard. In just one year, he has lost 101 pounds and—since arriving at Main Line Health—he's lost 111 pounds. He and his wife have committed to healthier eating habits to complement their workouts, and he's proud to see his hard work reflected in this year's biometric screening.
"Let's just say my numbers were much better," says Abella. "I feel better and I'm able to challenge myself to do things I couldn't before. Committing to the Peloton and an overall lifestyle change has been the best decision for my health."
Main Line Health serves patients at hospitals and health centers throughout the western suburbs of Philadelphia. To schedule an appointment with a specialist at Main Line Health, call 1.866.CALL.MLH (225.5654) or use our secure online appointment request form.