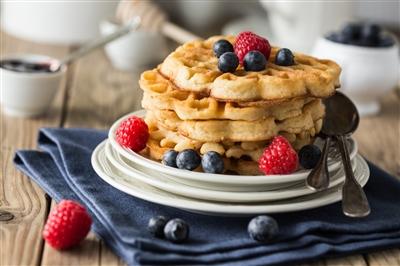 3 cups cauliflower rice
3 scallions, chopped
⅓ cup Parmesan cheese, shredded
1 clove garlic, minced
3 eggs
¼ teaspoon red pepper flakes
Salt and pepper
Toppings: Dash of hot sauce, guacamole or sliced avocado, chopped tomato and fried egg if desired
Cooking instructions
Steam cauliflower rice in the microwave for 2–3 minutes. Transfer to a clean towel or paper towel and press to remove excess moisture. Add cauliflower, scallions, cheese, garlic, eggs, red pepper flakes to a bowl and mix together. Season with a dash of salt and pepper.
Heat waffle iron. Spray with cooking spray. Add ¾ cup of cauliflower mixture to waffle iron and cook for 3–4 minutes until golden brown and crispy. Remove from waffle iron and repeat process until you've made 4 waffles.
Top with hot sauce, avocado slices or guacamole, chopped tomato. For a more substantial meal, top with a fried or poached egg.