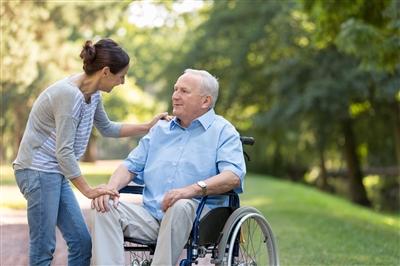 Traumatic brain injuries can happen quickly—often as a result of car accidents, sports injuries, health issues and more. But, as millions of patients know, their results can have long-lasting effects.
According to the Centers for Disease Control and Prevention (CDC), 43 percent of individuals who have been hospitalized for a traumatic brain injury (TBI) still suffer from a related disability one year after their injury. This can include poor memory, personality changes, and impaired balance, coordination, hearing or vision.
"The hardest thing for many families or loved ones to understand is that, unlike someone who has a heart attack or a hip replacement, a brain injury patient has a very long recovery period. The physical and cognitive healing process can take many years," explains Jeanie Sherriff, RN, BSN, outpatient care manager at Bryn Mawr Rehabilitation Hospital, part of Main Line Health.
While this recovery period is difficult for patients, it can also be difficult for caregivers. Finding support, even among the ones you love, is tough. Below, Sherriff offers some advice.
Take time for yourself
This might sound surprising, and maybe a little selfish. How can you take time for yourself when your loved one is in the hospital recovering from a life-changing injury? But, says Sherriff, that's exactly the reason why you need it.
"If you're not healthy, you can't help someone else," she explains. "When a patient arrives here for inpatient rehabilitation, we encourage the family to go home and maybe take care of some things on their to-do list or just set aside some time for a workout or coffee with a friend. You need time for yourself."
Time alone is good for patients, too. Without caregivers or family present, each patient can practice their therapy and learn new skills independently.
Identify your support system—and use it
In the days and weeks after your loved one suffers a traumatic brain injury, you'll likely receive many offers from family and friends to help with childcare, meals, running errands and the like. While these efforts are helpful, they often go by the wayside as time goes on.
But, as Sherriff mentions, recovery from a TBI can often take years. As time goes on, don't be afraid to reach back out to your support system and let them know that you still need help.
"We know that people are well-intentioned, but most don't realize how long recovery can be. Offers may decline after a few months, but the need for support continues," says Sherriff.
At first, try reaching out to immediate family members or close friends and asking for help with small favors like carpooling the kids to extracurricular activities or picking up your online grocery order. If someone is especially eager to help out, they might be willing to assist with more time-intensive tasks like babysitting or running errands.
Of course, it's not always easy to ask for help—even from those we love.
"If you don't feel comfortable personally asking for help, try confiding in someone like a sibling or a close friend about how you're feeling overwhelmed. They can mobilize a few people to help you out," she says.
Talk it out
Because an injury is more than just physical, psychological support is available to every patient at Bryn Mawr Rehab. Most brain injury patients take advantage of this during their inpatient stay and many continue it during outpatient therapy.
But the benefits of psychology aren't exclusive to patients; family members often take advantage of psychology sessions with members of the Bryn Mawr Rehab staff, too. Whether during formal therapy sessions or an impromptu conversation, Sherriff says she's found that many family members just appreciate the opportunity to talk.
"Sometimes, a family member isn't able to speak openly and honestly until they're alone and away from the patient. This is when we hear their true feelings or concerns, and it's a time to discuss how the injury has affected them, as a caregiver," she explains.
A psychologist can help you determine the best way to handle delicate situations, like asking for help from your support system or balancing time for yourself and time spent caregiving. He or she may also be able to refer you to a therapist who can offer ongoing support once your loved one is discharged from inpatient or outpatient care.
Look for helpful resources in your community
While your most important support system will certainly be friends and family, Sherriff says she and her colleagues at Bryn Mawr Rehab always encourage the use of community resources, as well. An often-overlooked resource is local churches.
"We always encourage people to research the programs offered by their church. Many offer groups that are willing to help cook meals or run errands for parishioners. It's a great resource, especially if you don't know many people in the area," she says.
Bryn Mawr Rehab also offers resources that can help brain injury survivors and caregivers cope with a recent diagnosis or get back to work and life, including a monthly support group.
"Our support group really gives patients and caregivers the opportunity to connect with people who are going through the same things that they are and talk amongst themselves about some of the struggles," says Sherriff.
Prior to discharge, the hospital also works to prepare patients with the necessary skills and resources necessary for their return to work or school.
"As a result of their injury, many of our patients aren't able to return to their jobs in the same capacity. Our vocational rehab team helps patients determine the role that they are best suited for, or other ways that they can serve the community," says Sherriff.
While this is helpful for patients, it can be equally beneficial for caregivers.
"We're here to help caregivers figure out what the plan is, long-term. Many caregivers don't know where to start, and this offers some direction."
In addition, Sherriff recommends the Brain Injury Association of America and the Brain Injury Association of Pennsylvania, two organizations that offer literature and educational tools that can help families of TBI patients learn more about life after TBI.
Visit our website for more information about the Brain Injury Program at Bryn Mawr Rehab, including family support.