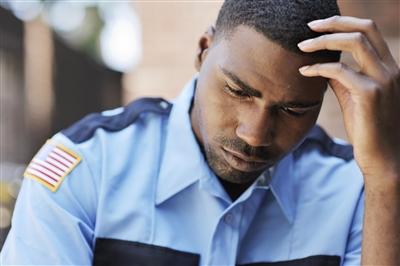 An interview with Darrell Briggs, counselor at Mirmont Treatment Center and facilitator of the Valor with Integrity Program for Emergency Responders (VIPER), a nationally-acclaimed program that provides addiction and trauma treatment for law enforcement/police, firefighters, EMTs and combat veterans.
Darrell, you've been working with the VIPER Program since it began at Mirmont in 2008. In a few words, how would you describe the program?
VIPER is a specialized treatment track that consists of first responders who struggle with addiction and, in many cases, post-traumatic stress disorder (PTSD). When the program began, it was intended for inpatient rehabilitation, but it has evolved and now treats both inpatients and outpatients at Mirmont.
Why do first responders need a program specifically designed to meet their needs?
A first responder who enters this treatment environment has had a vastly different experience than other patients. Take, for example, a police officer. They might be receiving treatment alongside someone who has a criminal past, or someone who might recognize them as an officer from their neighborhood.
By the nature of their careers, first responders can be guarded and entering a treatment program surrounded by people who might recognize them or feel a certain way about them can heighten that isolated feeling.
VIPER offers a community where first responders can talk to and meet people who have had similar experiences to their own so that they feel less alone and, hopefully, less guarded.
Police officers and firefighters seem like the most obvious examples of first responders that are accepted into VIPER. What other types of first responders have you seen?
We welcome a variety of different first responders to the program, including police and law enforcement officials, firefighters, emergency medical technicians and combat veterans. In the 10 years since the VIPER program began, we've seen members from across the region and country, including places like New York, Boston and Chicago. In 2017, the VIPER Program welcomed its first United States Border Patrol agent.
Some groups that we've seen more of recently are corrections officers, who really need support. They have a workplace culture that makes it difficult to overcome addiction. Psychiatric nurses, too, have been turning to us for help. Their experiences qualify them as an emergency responder. You would be surprised to hear about some of the things they encounter.
During a VIPER meeting, what can members expect?
It's quite a bit of talk and experiential therapy, but it's also a chance to simply talk about things that they might not feel comfortable sharing in other groups or at 12-step meetings. Most of those things center on traumatic experiences.
First responders also have a particular sense of humor that they can only express to their brothers and sisters on the front lines. Often, in the midst of their pain, VIPER members crack jokes and make observations that are hysterical. The laughter keeps them grounded and in touch with their humanity. It's a good and healthy release.
In your time as the facilitator of the VIPER program, what have you found to be the most significant benefit for members?
The opportunity for fellowship, and the realization that you're not alone. First responders, by their nature and the career they have chosen, are caregivers. When they feel that they come up short, it's damaging to their self-esteem and pride. It can be tough to keep going because they take it harder than the average person. They need to know that they're not failed people.
VIPER offers a chance for fellowship and the reminder that there are men and women just like them out there, struggling with the same problems. It reminds them that they deserve the time and the opportunity to recover, too, just like everyone else.
What has surprised you the most about your time facilitating VIPER?
I have been a counselor at Mirmont since 2006 and, before my time with VIPER, I always found it very easy to maintain the boundaries between therapists and patients. But since I became involved in VIPER, I have had to be even more mindful of those boundaries in a way that I didn't before. My connection with the members of VIPER is profound. There is a sense of belonging and camaraderie in this group that pulls you in. I'm humbled to be the facilitator of the process of healing of this terrific group of people.
Once their treatment is over, do members continue to stay in touch with VIPER?
We do have many VIPER alumni who have been clean and sober for several years that continue to come back to the group to share with those who are in treatment now. The message is: 'If I can overcome addiction and trauma and move on with my life, so can you.'
Learn more about VIPER
VIPER provides a safe, supportive environment for recovery while addressing issues that are specific to first responders such as post-traumatic stress disorder (PTSD), crime scene trauma, work-related distress and family and marital problems. In addition to group therapy, VIPER offers:
Eye movement desensitization reprocessing (EMDR) for PTSD
Contact us to learn more about VIPER and other treatment services at Mirmont.