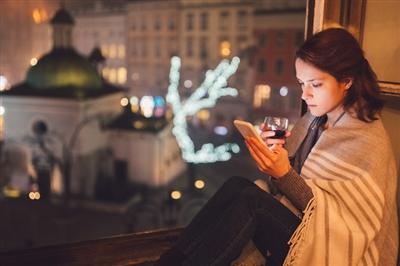 It's not a secret that, for some of us, the holidays can be a difficult time. Whether you're celebrating away from family and friends, have recently experienced a loss or are coping with changes in your relationships, the holidays seem to put a spotlight on these struggles.
When we're feeling anxious, sad, depressed or upset, it can be tempting to turn to social media to cope. But spending hours on social media following friends and family who are having a 'perfect' holiday can actually make a difficult time even more difficult.
Instead of falling into a social media spiral, try these tactics to help your holidays remain happy:
Set some perspective
It's normal to want to showcase the achievements and highlights of our lives; this is part of the human condition. But remember: no matter how perfect a person's life might appear on social media, everyone has their struggles.
Remain mindful
Set aside time every day to practice mindfulness. If you're used to reaching for your phone and scrolling through Twitter during lunch, take a few moments to be mindful instead. Instead of looking at your phone when you wake up or before bed, take a few moments to be mindful.
Tune in to your emotions
If you're feeling upset, anxious or depressed, recognize that now is not a good time to look at social media. Check in later, when you're in a better mood.
Look for online support groups
Social media can be helpful, too, if it's used in the right capacity. If stopping or regulating your social media use seems like too lofty a goal, broaden your virtual relationships to include support groups or follow accounts that offer advice for others who are struggling during the holidays.
Take it offline
Having positive relationships is critical for your mental health. Make an effort to maintain your relationships offline, too. Turn a text conversation into a coffee date or plan a dinner party for a few of your closest Facebook friends. While digital communication is easy, the best way to connect is to talk in-person.
Dr. Paula Durlofsky is a psychologist in private practice in Bryn Mawr, whose practice focuses on psychological issues affecting individuals, couples and families. She is affiliated with Bryn Mawr Hospital and Lankenau Medical Center, part of Main Line Health.