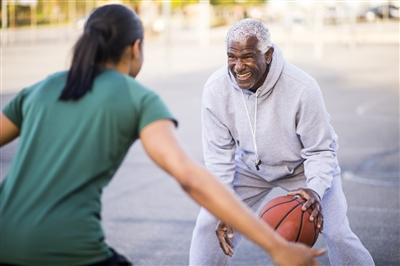 As the weather cools down, basketball season is picking up. And, while basketball season can be fun for players and fans alike, it's also plagued by the potential for injuries.
"Basketball relies on being able to make quick, short movements, and your knees and ankles are doing the majority of the work. That's what makes injuries like jumper's knee, torn ligaments and ankle sprains and strains so common among basketball players at any level," explains David Vegari, MD, orthopaedic surgeon at Lankenau Medical Center, part of Main Line Health.
Whether you're a weekend warrior or a proud parent on the sidelines, here's what you need to know about preventing basketball injuries.
Get the right gear
Personal protective equipment might feel excessive on the court, especially if you're just playing a game of pickup. But there's a good reason for this equipment: it's your best defense against a sports injury.
While basketball requires minimal equipment compared with other sports like hockey or soccer, there are a few things you can pick up to keep yourself or your athlete safe on the court:
A mouth guard
Basketball sneakers with ankle support
Athletic goggles, in lieu of glasses
Compression socks to aid in recovery, if you play regularly
Hydrate early and often
A bottle of water (or several!) is a must when you're doing any kind of physical activity, whether it's a basketball game or just a workout at the gym. Stopping for water breaks helps prevent dehydration and replenishes the water that your body loses through sweat, but the benefits don't stop there.
"Water is the best choice for athletes or because it can help prevent muscle fatigue or cramping, which is important if you're working out for a longer period of time or playing a game that can go for several hours," says Dr. Vegari.
While sports drinks, like Gatorade or Powerade, might be the preferred choice for some athletes, it's always best to reach for water to keep you hydrated before and during a game.
Recognize pain and address it early
Basketball injuries are common and, if they're severe enough, can sideline your season. For this reason, it's better to take a break from the game than to play through any pain or discomfort.
Before you get back on the court, try the RICE (rest, ice, compression, elevation) method to see if it helps heal the pain. If not, make an appointment with your primary care doctor to determine whether it's an injury that just needs more time to heal or requires special treatment. Whatever the case, remember: don't play with pain.
Fit in additional workouts
One way to protect yourself against injury is to make sure you're supplementing your basketball games with other workouts, too.
"Staying in shape can help you prevent injuries. It helps to build muscle and prime your body to respond better to the physical demands of a sport like basketball. And, if you are injured, your body can recover more quickly," explains Dr. Vegari.
Play by the rules
Just like it's important to take a coach or trainer's advice regarding personal protective equipment, it's also important to make sure you're playing by the rules. Playing too aggressively can result in injury in yourself or others. No matter how competitive it gets, remember: It's just a game.
Get back in the game
If you've had a sports-related injury or have a condition that's keeping you out of the game, our sports medicine physicians and specialists are here to help you get back to doing the things you love. Our goal is to help you get back on the court, the field, the track—whatever activity you're missing out on—and to live an active life again, free of pain and limitation.
At Main Line Health locations throughout the Philadelphia region we offer evaluation, diagnosis, and non-operative as well as surgical treatment and rehabilitation for active adults and adolescents with acute injuries or chronic conditions related to sports or other activities.
To schedule an appointment with a specialist at Main Line Health, call 1.866.CALL.MLH (1.866.225.5654) or use our secure online appointment request form.