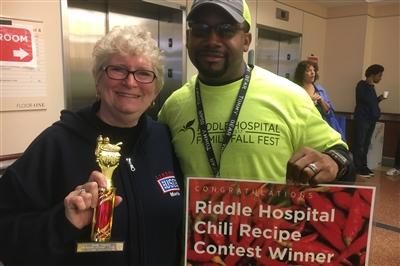 Recipe submitted by: Marie Fitzpatrick, RN, Riddle Hospital Birthplace
Ingredients
1 ½ pounds ground turkey
½ cup ketchup
1 ½ tsp lemon juice
2 tsp white vinegar
1 ½ tsp brown sugar
1 ½ tsp salt
1 tsp Worcestershire sauce
½ tsp garlic powder
½ tsp dry mustard
1 Tbsp chili powder
⅛ tsp cayenne pepper
½ cup chopped onion
1 rib celery, chopped
½ cup chopped green pepper
1 ¾ cups frozen corn
2 15.5 oz cans stewed tomatoes
1 15.5 oz can red kidney beans (undrained)
1 15.5 oz can black beans (undrained)
1 15.5 oz can mild chili beans (undrained)
2 6-ounce cans tomato paste
Instructions
Cook ground turkey, onion, celery, and green pepper in a frying pan until turkey is fully cooked.
Place in slow cooker and add remaining ingredients (save corn). Mix well.
Cover and cook on LOW for eight to 10 hours or HIGH for four hours.
When finished cooking, stir in frozen corn.