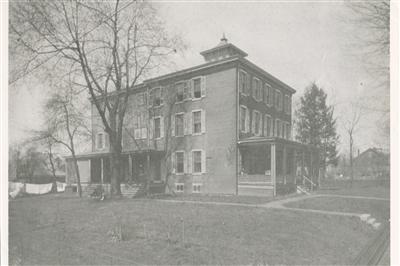 In 1917, Paoli Hospital—formerly known as the Homeopathic Hospital of Chester County—was facing a 'precarious situation.' In order to continue to adequately meet the needs of its patients, and to receive accreditation from the state, the hospital would require an entirely new wing. Estimates placed the renovation work at $50,000, and time was at a minimum—the hospital would have just one month to raise the necessary funds.
Faced with maintaining their beloved hospital's future, the Paoli Hospital Board of Governors and staff physicians called a meeting to discuss funding options on December 30, 1916. One option, in particular, caught their attention.
Pierre S. duPont, business magnate and former president of chemical company E.I. du Pont de Nemours and Company (DuPont), had been a generous supporter of Paoli Hospital since it opened in July 1913. When he became aware of the upgrades necessary to continue Paoli's legacy in the community, he pledged $20,000 to the cause. But there was one caveat—he called on the residents of Chester County to help meet the remainder of the $50,000 goal.
Encouraged and energized by his generosity, the Board of Governors gratefully accepted Mr. duPont's offer.
Fundraising efforts began almost immediately. A.J. Himmelsbach, the general secretary of the West Chester YMCA, agreed to lead 100 volunteers as they spearheaded the six-day, whirlwind campaign. With volunteers at the ready to seek donations, there was only one question left: How would Himmelsbach—and the Paoli Hospital team—track such a large volume of donations over such a short period of time?
The answer came in the form of a clock, erected on the Chester County Courthouse lawn in West Chester. Giving benchmarks in increments of thousands—$10,000; $15,000; $20,000—had replaced the traditional numbers on the clock. As donations were made, volunteers would manually move the clocks hands closer to the clock's "midnight"—$50,000. At 8:00 each evening throughout the fundraising campaign, the clock would offer a glimpse of how much had been raised thus far.
On January 22, the first day of the fundraising campaign, the front page of the Daily Local News read: "Homeopaths' Clock Ready to Run."
And run it did! Over the next several days, Chester County residents, volunteers and donors watched as the hands inched closer and closer to Paoli's $50,000 goal. On the sixth and final day, Himmelsbach and his volunteers gathered last-minute donations at the YMCA's headquarters. They watched as the clock ticked from $22,000, $25,000, $26,000 and—finally—$28,000.
Just a moment before midnight, the total was officially recorded on the clock. Despite the best efforts of the donors and volunteers, Paoli was still $2,000 short of its goal. As 200 community members stood on the courthouse lawn stunned by the results, a phone rang out in the YMCA headquarters.
It was Mr. duPont's secretary, calling for a final report of the clock's total and to determine whether or not Chester County had been able to meet its $30,000 goal. A volunteer, saddened by the news, reported that they had fallen short.
Inspired by the efforts of his neighbors, Mr. duPont agreed to make up the difference and pledged an additional $2,000 to the renovations. With his help, Paoli Hospital raised $50,000 in just six days—a sum that would be worth $1M in 2017.
With the generous donations from community members and Mr. duPont's support, Paoli Hospital built a new wing that included an operating room, x-ray suite, elevator, kitchen, children's ward and more. As a result of these new additions, the hospital earned state accreditation that enabled it to continue to serve the residents of Chester County—as it continues to do today.
Despite an ever-changing health care landscape, philanthropy remains a cornerstone for the vitality of many hospitals, including Paoli Hospital, part of Main Line Health. 100 years after the generous donations of our community members and Mr. duPont, a spirit of giving continues with Paoli's 'Always There with Great Care' campaign.
Over the past two years, Paoli has raised more than six million dollars to fund programs and services for our patients, and support our ongoing commitment to cutting-edge medical research and training for the physicians of tomorrow. Like Mr. duPont so graciously did in 1917, a munificent member of our community has also offered to match every new donor's gift of $10,000 or more.
There are many different ways of giving to Paoli Hospital. Giving to Paoli Hospital supports programs and services for our patients and backs our ongoing commitment to cutting-edge medical research and training for the physicians of tomorrow. We invite you to explore the many ways to give to Paoli Hospital.