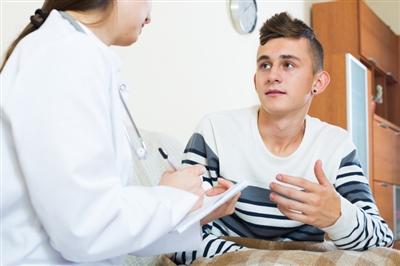 From the time you bring your newborn home, your pediatrician is a trusted source of information, support and education. They're there to help talk you through everything from your baby's first fever to their brush with broken bones. As a result, your pediatrician can start to feel like part of the family.
And while having a trusting, honest and open relationship with your physician has many benefits, some children may begin to start feeling out of place in the pediatrician's office as they enter their teens and begin to face more complex health issues.
These can vary and include everything from the physical changes that occur during puberty to questions about sexuality, birth control and STD's.
"While pediatricians have the skills and training to care for adolescents until they turn 21, many opt to switch from their pediatrician to a physician who specializes in the care of adults or families before that age simply because they're more comfortable talking about these issues," says Anthony DiMarco, DO, family medicine physician at Riddle Hospital, part of Main Line Health.
Physicians who specialize in the care of adolescents during this transitional time can include either a family medicine physician, who cares for children and adults, or internal medicine physician, who cares strictly for patients ages 18 and older. If you are the parent of a teenage girl who is looking for specialized care, you may also consider a gynecologist.
So, when your teen becomes the tallest in the waiting room, how can you help them make the transition to a new physician? First, ask for a referral.
"Your pediatrician has been caring for your son or daughter for several years. They have the most thorough understanding of your child's health history, and can make a physician recommendation based on this," says Dr. DiMarco.
Of course, there are other factors to consider, too. Dr. DiMarco urges parents to talk to their teens about what they are looking for in a physician in terms of gender, age and experience, and to consider practical factors like whether the physician's offices are close to home and what their hours are.
And, as your teen seeks to graduate to a more "adult" physician, encourage them to take control of their own health.
"The sooner that your child can start to make their own appointments, keep track of their own health information and work with you to access their patient records, when possible, the better. It's important to take an active role in your health, and this is an opportunity for you to encourage your child to do so," says Dr. DiMarco.
When your teen decides to graduate to a new level of care, Main Line Health has several providers to choose from. Our board-certified primary care physicians can diagnose and treat common medical problems, help patients maintain good health and prevent disease, treat serious illness, and assist with the management and coordination of care, should a specialist be required. To schedule an appointment with a specialist at Main Line Health, call 1.866.CALL.MLH (1.866.225.5654) or use our secure online appointment request form.