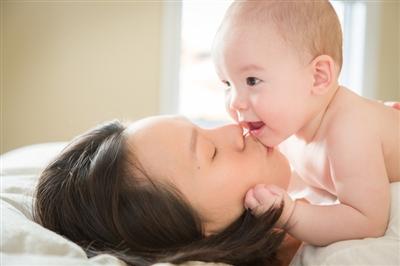 The good news is that babies in the United States are latching on and nursing more than at any other time in modern history. If we look back at breastfeeding trends since the dawn of the 20th century, we see that the practice has ebbed and flowed. In the early 1900s more than 66 percent of women breastfed1 but by 1972 we hit an all-time low of just 22 percent2. In 1990 the rates had crept back up to 50 percent and have since jumped to our current rate of 77 percent (latest data is from 2013)3. Out of those 77 percent, four out of five breastfed at least once (initiation), more than 50 percent still breastfed at six months, and nearly one-third were still nursing at 12 months.
Today, breastfeeding is a public health strategy, both nationally and around the world. Experts have agreed that nursing your baby provides the perfect nutritional balance as well as moderate protection from certain childhood infections and improved survival rates, including lower rates of sudden infant death syndrome (SIDS)4. While breastfeeding advocates see room for improvement in the number of babies who start and continue to breastfeed, the current data and the psychological shift towards the benefits of breastfeeding are certainly something to celebrate.
Non-nursing moms feel the pressure to breastfeed
But what about the moms who just can't nurse, or have chosen not to nurse for personal reasons? Some say they're feeling the "bressure"—the pressure to breastfeed—and it comes from all angles: the news media, social media (note the prevalence of "brelfies" or breastfeeding selfies), well-meaning friends, family, even health care professionals. And perhaps the worst bressure of all is that which women place on themselves.
There are real reasons that women may not initiate breastfeeding or have a challenge meeting their own breastfeeding goals. For some it may be they're just not comfortable with the experience. Examples of this include women who've been sexually abused in their lifetime and feel a disconnection from the breasts and what their biological purpose is. For others it may be work-related. Not all women benefit from the Family and Medical Leave Act with 12 weeks paid time off. Some may think, why bother to start breastfeeding if I have to go back to work in six weeks (or less)? Others may be intimidated by horror stories they've heard and they've opted out of the idea all together. There may be additional psychological, social and religious reasons a woman chooses not to breastfeed. For these women, the safe alternative to breast milk is formula.
There are also women for whom breastfeeding is physically not an option due to insufficient glandular tissue (IGT), for example, which affects the baby's ability to latch on. Another five percent of women simply do not produce enough milk to feed their babies.
"You can't just look at someone and tell whether they'll have one of these two problems," explains Donna Sinnott (aka "Boob Donna"), International Board Certified Lactation Consultant at Paoli Hospital and chair of the Main Line Health Lactation Committee. Sinnott adds that while some women experience frustration while their milk is coming in, or they have concern over whether the baby is getting enough to eat from nursing alone, these challenges are rarely related to the mother's body and often have more to do with heightened anxiety and stress.
Breast milk vs. formula: Every mom should have the benefit of informed choice
One of the roles of a lactation consultant is to help new moms (or newly breastfeeding moms) understand the rhythm of infant feeding and weight gain. Sinnott admits that with breastfeeding it's not as easy to gauge how much the baby is getting. "Bottles are very seductive," she adds, "because you can see what's going in and what's going out."
The success of breastfeeding, on the other hand, is measured in "weight, pees and poops," continues Sinnott. As moms gain experience and see their babies gain weight, they also gain confidence and develop a certain intuition about how well their baby is fed.
The goal for Sinnott is not to push breastfeeding on moms that don't want it, but to ensure that a new mom has absolutely everything she needs to make an educated and informed choice about how to best feed her baby—whether breast or bottle. And for women who do choose to breastfeed, to have the ongoing guidance and support they need to continue breastfeeding for as long as possible.
Any amount of breast milk for any length of time is worth it
To the moms who have to go back to work in six weeks, Sinnott advises, "Any breast milk for any baby for any time period—is worth it. Even if you breastfeed or pump just once a day, all those immune benefits go into that milk for that one day." She recommends moms do away with the all-or-nothing mentality about breastfeeding and commit (if you want to nurse) to providing any amount of breast milk you're able to provide in the first year of the baby's life.
"A standard part of postpartum care here at Main Line Health is making sure every mom knows how and where to get a breast pump," says Sinnott, whose education of moms includes how to introduce the bottle whether they choose to pump milk or use formula. She and her team also make sure nursing moms understand their insurance benefits regarding lactation (double-electric breast pumps in this area are covered 100 percent by insurance).
Did you know? Main Line Health has 80 to 90 percent breastfeeding initiation rates, as reported to The Joint Commission. Our initiation rates are also an average of seven to 13 percent above the Pennsylvania average.
When your job doesn't support pumping
Sinnott also works with moms whose workplaces don't support breastfeeding (for example, women in jobs such as elevator operator or retail sales clerk) and teaches them how to "wean" their breasts during the day.
"Many women don't even realize this is an option," she explains. The modern moms she meets think they have to be all or nothing when it comes to breastfeeding, but she wants to remind them that something is better than nothing. She also advises women to educate themselves as much as possible in the prenatal period. "Women are relying on online or anecdotal education on breastfeeding when they would benefit so much more from taking prenatal childbirth and prenatal breastfeeding education classes." (Main Line Health offers prenatal breastfeeding classes and childbirth education classes in locations around the Philadelphia region.)
Women face pressures everywhere—and breastfeeding suffers for it
Women are at risk for perinatal mood and anxiety disorders during pregnancy and through the first year after delivery. Emotional health, therefore, serves as an additional stress on mom in the postpartum period, as does navigating breastfeeding. Take a mom who's already frazzled, juggling work and family life and perhaps the needs of other children, then add a baby and the demands of breastfeeding and it's no wonder women make the decision to stop nursing altogether. It's one less demand, physically and emotionally, and it's likely one of the few she has control over.
This is one of the great laments of lactation consultants and breastfeeding advocates everywhere. In the United States women give birth and right away have to worry about going back to work. It's no wonder so many American moms quit nursing before three months and even fewer make it to six or twelve months. In every other industrialized nation, governments support women staying home and breastfeeding for a year, with pay. According to Sinnott, this holds true in many nonindustrialized nations as well.
While governmental support decisions are beyond our control, the effort to breastfeed for as long as a mom is willing and capable is something Sinnott will always encourage. And if you choose not to do it—ever—or if you decide it's no longer what's best for you or your baby at a certain point, that's okay, too. "At Main Line Health we support you either way," she says.
Coping with postpartum stress and anxiety related to breastfeeding
Liz Bland, MSW, LCSW, and the director of the Women's Emotional Wellness Center in Newtown Square, has seen her share of bressure—especially the kind women place on themselves. A common frustration she hears from breastfeeding moms is: "This should just come 'naturally' to me." While breastfeeding itself is certainly "natural," that doesn't mean women or babies are born with a knack for it. Every woman and baby is different, and nursing does have its challenges.
"When these challenges arise," says Bland, "something interesting happens. Women go very quickly to 'I'm a failure, I'm a bad mom.' When women use the word 'failure,' they might not even realize they said the word. It just comes out along with everything else on their minds." Bland and her team are quick to make her clients aware of the effects of self-defeating language.
For women experiencing emotional difficulties, or if they're simply having a tough time with feeding, Bland encourages seeking the support of a professional. Support can be found at the Women's Emotional Wellness Center, through breastfeeding groups at different locations throughout the Main Line Health system, or with a lactation consultant. Her primary aim is to help moms take care of themselves so they can do what's best for them and their babies. If the responsibility of breastfeeding the baby is taking its toll on a woman's mental health and she has exhausted her options, it could mean cutting back on or even stopping breastfeeding. Moms need to be well to care well for their infants.
What women will do to avoid being judged for not breastfeeding
"I've had women whisper to me that they hate breastfeeding," says Bland. "They share that they're whispering because they're afraid for other women to hear and they don't want to be judged." Sometimes women stop breastfeeding but don't share this with friends or family so they can avoid having to explain themselves, which typically only leads to more bressure.
"We empower and educate moms to understand that many women experience difficulties with breastfeeding," adds Bland. "We encourage them to speak with other mothers for support, reach out to lactation resources, verbalize their feelings and needs and, above all, be kind to themselves in the process."
With this shift in thinking, bressure lifts and many patients experience a transformation. They come in having such a hard time with stress and anxiety in their lives—which impacts their ability to nurse, or enjoy nursing—and they leave with coping tools, feeling connected and supported, and less hard on themselves about how to feed their child.
Adds Bland, "In our society, women can turn so quickly on each other—and themselves—but we must remember we're all just trying to make the best decisions in the moment, for ourselves and our families."
So start by asking yourself, what is best for me that will in turn be best for my baby? And while you're at it, look for ways to relieve some of that bressure—on yourself and others.
Want more breastfeeding support? Don't miss these Big Latch On events at Bryn Mawr Hospital, Paoli Hospital and Riddle Hospital.
Also be sure to attend one of our breastfeeding support groups in your area.
---
1 Hirschman C, Butler M. Trends and differentials in breast feeding: an update. Demogr. 1981 Feb;18(1):39-54.
2 Aeroflow Healthcare. Breastfeeding trends in the USA. Accessed online July 21, 2017.
3 National Center for Chronic Disease Prevention and Health Promotion, Division of Nutrition, Physical Activity, and Obesity, Centers for Disease Control. Breastfeeding Report Card: Progressing Toward National Breastfeeding Goals United States, 2016.
4 National Institute of Child Health and Human Development. Accessed online July 21, 2017.