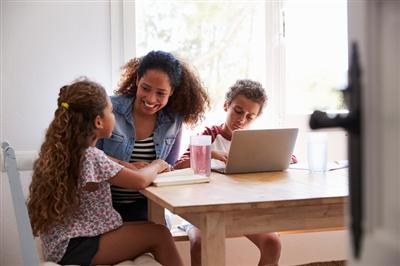 The start of a new school year is exciting but, for parents and students alike, it can also be a stressful time. Between trying to ease back into your old routine and adjusting to life in a new school or classroom, the start of a new year isn't without a few growing pains.
And, while you can't accompany your little ones to school and tackle every hurdle for them, you can do everything possible to prepare them for a successful year. Here are steps you can take over the next few weeks to give them the best start to a new year.
Return to a regular bedtime
Dust off your alarm clock—it's time to return to a regular bedtime. While it will likely be hard for everyone in your house to return to waking up early, it's necessary to make sure that the whole family feels rested and re-energized before tackling work or school.
How much sleep does your child need? According to the American Academy of Pediatrics:
Children ages 3 to 5 – 10 to 13 hours of sleep every day, including naps
Children ages 6 to 12 – nine to 12 hours of sleep every day
Teenagers ages 13 to 18 – eight to 10 hours of sleep every day
It may not be easy to start turning the clock back, so start by heading to bed 15 minutes to a half hour earlier every night about one to two weeks before school starts. Having a regular bedtime routine can help. Routines like a warm bath, reading a book together and limiting electronics before bedtime helps kids relax.
Restock the refrigerator with healthy choices
Sugary summer treats are fun to enjoy, but they aren't the best way to keep your child awake and energized throughout the school day.
"Students need a lunch that is high in protein, fruits and vegetables that can help power them through their day," says Cheryl Clarkin, MD, chief of inpatient pediatrics at Nemours duPont Pediatrics at Bryn Mawr Hospital, part of Main Line Health.. "Think foods like whole grain bread with nut or seed butter, apple slices and small slices of cheese."
Listen to your child
While it might be difficult for you to see your child start something new, it may be even more difficult and stressful for them. Simply taking the time to listen and validate their concerns about the start of a new year can help.
"When a child is stressed, knowing that they have a parent or guardian there protecting them is important—even if it just means listening to them and serving as a support system," says Dr. Clarkin.
In addition to offering support for your child now, lending an ear can also increase the likelihood that they'll come to you with issues that may arise in the future.
Limit device usage
It's not easy to limit the amount of time kids—and adults—spend of devices. After all, they're everywhere. But in order to give your children the best night's sleep and help get them back on track for the school year, it's necessary.
The American Academy of Pediatrics recommends that parents of children and teens ages five to 18 place limits on the use of any media, including television, smartphones, tablets and other digital devices. But now, as schools use the same devices as part of education, it becomes difficult to limit. Dr. Clarkin offers some advice for parents seeking to set device usage guidelines.
"Every family's rules will differ, but letting your children know that there are rules in place to dictate how they should be using these devices is a good first step," says Dr. Clarkin.
Orient your child to the routine
"The more familiar you and your child are with what you'll be faced with, the more comfortable you'll both be in the first few weeks of school," explains Dr. Clarkin.
Many schools have a day to meet the teacher and see the classroom before the school year officially begins. These are great opportunities to familiarize yourself and your child with the teacher, school and what they can expect from the coming year.
If there aren't any formal orientation programs available, you can still find ways to orient yourself and your student with a school or area. Drive by the school to familiarize yourself with its location and grounds or set up a playgroup with other local families whose children may attend the school.
You and your child can also pack your child's school bag together with the necessary supplies in the days before school starts. Pick out the outfit for the first day and plan for all the things your child wants to do with and share with their classmates.
Focus on the positive things
School is fun! Your child will see old friends again and meet new ones in addition to doing and learning new things. Remind them how they are getting so big and responsible.
"There is great excitement around a school new year," says Dr. Clarkin. "Let that be what dictates your child's attitude about a new year, not the anxiety about the unknown."