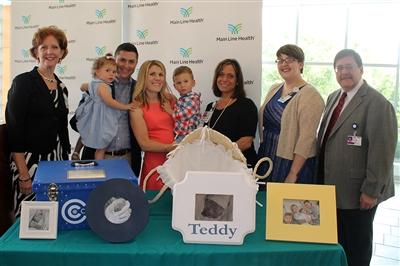 Each year, more than 23,000 pregnancies across the country result in a neonatal loss. These deaths come about as a result of several factors, including premature birth, congenital malformations, low birthweight and complications during delivery. Sadly, in some instances, the cause for neonatal loss is not known.
Historically, these losses were rarely discussed, but the training of social workers, nurses and other hospital staff has helped foster a dialogue among parents and family members and led to better support in instances of infant loss.
In addition, several organizations—including March of Dimes and Stories of Babies Born Still—are working to change the dialogue about perinatal and neonatal bereavement, and their efforts are getting attention. 
Two recent articles in the New York Times highlight genetic testing for stillbirth during pregnancy and couples coping with the emotional shockwaves it leaves behind. Recently—and closer to home—the Philadelphia Inquirer spoke to local hospitals about the evolution of bereavement care, including how hospitals are preparing parents for a stillborn child and providing support for them after the child's delivery.
At Main Line Health, we are committed to advancing this effort. 
"Losing a child is a tragic and emotionally devastating event, one that can often make parents feel alone. While family members and friends may be well-versed in the tradition of welcoming a new baby, mourning and knowing what to say to parents after pregnancy loss is often unfamiliar territory," says Kara Lacy-Kent, a labor and delivery staff nurse at Lankenau Medical Center, part of Main Line Health.
By participating in bi-annual Resolve Through Sharing trainings—considered the gold standard in bereavement training—Main Line Health staff are provided with the skills, education and sensitivity training necessary to provide care and support to families who have experienced perinatal loss.
Chris and Beth Clement tragically know all too well what it is like to lose a child. The couple's third child, Theodore Jude Clement (Teddy), was born still on November 21, 2015 at Lankenau Medical Center. Although they were heartbroken and grieving, the Clement family spent time with Teddy after his birth; holding him, kissing him, introducing him to his brother and sister and taking photos that the family would forever cherish.
"Saying goodbye to him was the most painful and heartbreaking experience we have ever had and hopefully will ever have. Teddy will always be our third baby," says Beth Clement.
While the Clements continue to hold Teddy in their hearts and remember him every day, their loss also inspired them to want to do more for parents coping with a similar loss.
"We learned the unfortunate truth that, not only do stillbirths still happen, but they are more common than anyone realizes. One out of every 160 pregnancies in the United States ends in stillbirth. That's 10 times more infant deaths than the number that occur annually from SIDS. Yet, unlike SIDS, no one talks about stillbirth until it happens to them or someone they know," says Clement.
The Clements pledged themselves to spreading the message in Teddy's memory, starting with the purchase of a CuddleCot for Lankenau Medical Center.
CuddleCots, devices that are roughly the size of a humidifier, are disguised inside of a Moses basket and use a cooling system to slow down the body's natural decomposition process to allow families of infants who have passed the ability to spend more time with their child.
While Chris and Beth began crowdfunding online with the goal of purchasing a single CuddleCot, the support for their cause and Teddy's legacy was so overwhelming that the couple received several generous donations and purchased a CuddleCot for each Main Line Health hospital. Each CuddleCot is marked with a memorial plaque inscribed with Teddy's name.
"While we will never be able to accept Teddy's death as anything other than a senseless tragedy, that's no longer the focus for us. Instead, when we think of our sweet boy, we think of his legacy and the impact that he has had already and that he will continue to have in our community as these CuddleCots that bear his name provide support and comfort to other families like us. That makes us so proud," says Clement.
Parents who have experienced pregnancy loss appreciate the support that CuddleCots offer, too.
"The gift of time is the greatest gift that you can give parents who have lost a child," says Lacy-Kent. "CuddleCots offer our grieving parents and families the opportunity to make memories with their child and to cherish the time spent with them. Thanks to the Clements' generous donation, we're able to offer the CuddleCots as a resource to our families."
The Clements' story and those of other families who have experienced loss have inspired us to expand our Perinatal Bereavement Program.  Main Line Health is here to provide options, resources, support and guidance to help parents make important decisions and grieve in a way that aligns with their cultural and spiritual beliefs. 
If you or a family member has experienced a pregnancy loss, the Women's Emotional Wellness Center—located at the Main Line Health Newtown Square—can offer support.