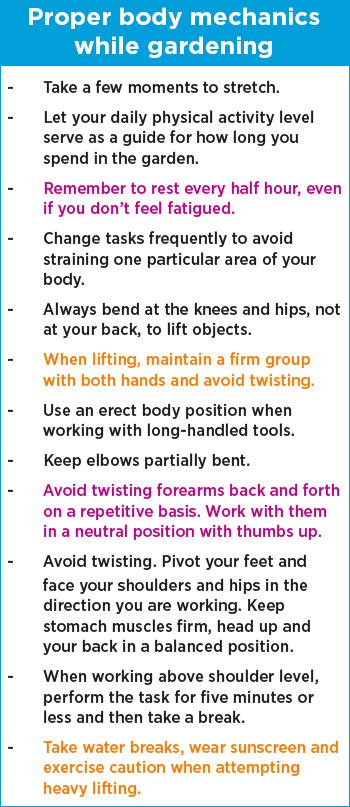 Green thumb or not, more people are trying their hand at the lifelong hobby of gardening. And with good reason, too—many surveys have ranked gardening as the top outdoor leisure activity, and it offers several health benefits.
"Gardening provides many benefits. In addition to time spent outside and building a beautiful garden or yard, many people are surprised to learn how good it can be for your body," explains Pam Young, HTR, horticultural therapist at Bryn Mawr Rehab Hospital, part of Main Line Health. "Several studies have indicated that regular yard work lowers stress levels and provides a good physical workout, too."
Not convinced that gardening gives you the same workout as your afternoon walk or jog? Think again.
Researchers at the University of Arkansas studied a variety of weight-bearing exercises done by women over age 50, including jogging, swimming, walking, aerobics and gardening. The results showed a higher bone density among women who did yard work regularly than any of the other 'traditional' types of exercise. Weight training was the only other activity that yielded similar results to that of yard work and—between spreading mulch, pulling weeds and planting—you'll get plenty of that in the garden.
Just like any other activity, you can injure yourself while doing yard work, too. Digging and weeding can take a toll on your knees, hands, wrists and shoulders. To prevent injury and alleviate pain, look for ergonomic gardening equipment.
"Ergonomic gardening tools like kneelers and handheld tools can ease or spare you some of the aches and pains that are commonly associated with gardening. If you don't want to purchase new equipment, you can always modify your current equipment to better meet your needs," says Young.
For example, buy tools with telescoping handles that allow you to adjust the length of the tool, if you are standing or seated. Add a Velcro strap to existing handheld tools to provide support for decreased grip or hand strength. Consider speaking with a horticultural therapist in conjunction with a physical therapist to identify modifications and select garden equipment that is right for you.
Remember to vary your tasks and movements too, says Young. Aches and pains aren't necessarily a sign of a good workout.
"Take breaks and change your gardening tasks frequently. Repetitive motions and staying in one position can cause muscle problems and aggravate arthritis."
Above all, says Young, don't let anything dull your love of gardening.