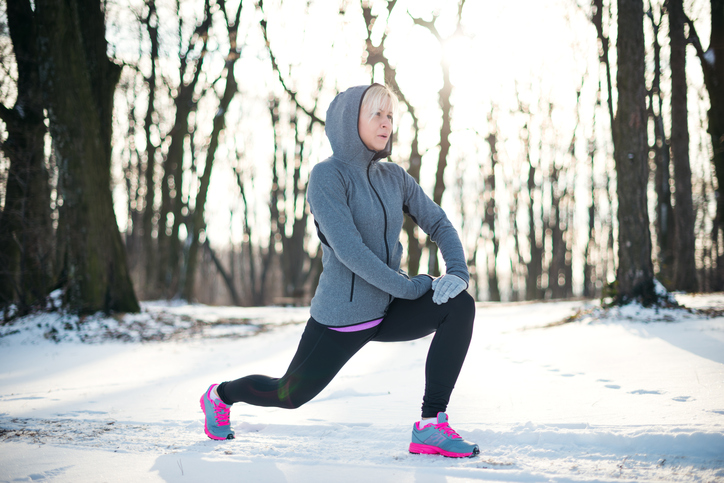 It's a new year, and you're eager to begin tackling that resolution to exercise more. But, in your excitement to get out the door, don't overlook the importance of keeping yourself safe during winter weather workouts.
Kerry Larkin, trauma program manager at Paoli Hospital, part of Main Line Health, has tips to keep you fit and on your feet through freezing temperatures and snow days.
Check the temperature
Before you head out the door, check the weather forecast. Sometimes, it's simply too cold for an outside workout. If wind chill temperatures are below zero, you could be putting yourself at risk for frostbite or hypothermia. A temperature of zero degrees Fahrenheit and a wind speed of 15 mph creates a wind chill temperature of -19 degrees. Under these conditions frost bite can occur in just 30 minutes. If you're just beginning your workout journey, it's especially important to be cautious about working out in freezing temps.
In instances like these, it's better to play it safe and find a suitable indoor workout, like yoga, a workout DVD, or dusting off the treadmill downstairs.
Wear layers
If you do decide to take your workout outdoors, then make sure you're dressed warmly. Opt for moisture-wicking workout gear that will keep your skin dry during your workout. Dress in lightweight layers, including a hat, gloves, and socks.
Pick the right footwear
Footwear is an important component of your winter workout wardrobe, too. If you'll be walking or running outdoors, you'll want to find a pair of sneakers that are waterproof, supportive, and have traction on the bottom to prevent slipping.
Opt for daytime workouts
Sunlight is hard to come by in the winter months but, whenever possible, it's always best to work out during the daytime. It's when you'll be warmest—and most easily seen by vehicles you're sharing the road with.
Of course, finding time to squeeze in a workout in between everything else on your to-do list isn't easy. So, if you do need to work out during the early morning or evening hours, be sure to wear reflective gear on the front and back of clothing to make yourself visible to drivers. Even think of investing in a small head lamp.
Grab a friend
Working out with a buddy makes keeping your commitments easier to do, and it makes your workouts safer, too. Bring a friend with you to workouts at least a few times per week, especially if you'll be taking your workout to a more remote location, like a trail or park.