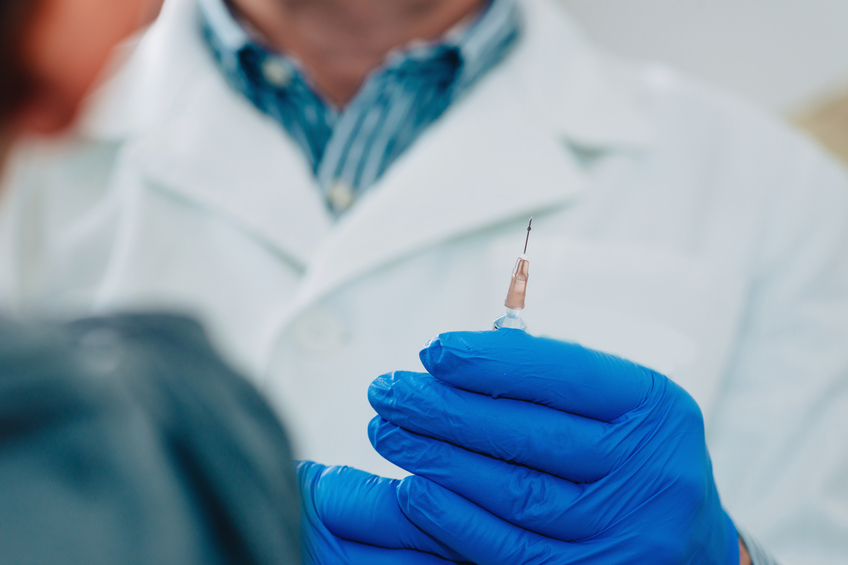 Trying to avoid your child's meltdown at the doctor's office just got a little bit more difficult. At the recommendation from the American Academy of Pediatrics (AAP), this year's flu vaccination will be offered only as a shot, with no option of the FluMist.
The FluMist, a spray that delivers the flu vaccination nasally, has been an often-preferred option for needle-fearing and pediatric patients. In recent years, about one-third of children's flu vaccines have been delivered via FluMist. Unfortunately, studies have shown that it's not nearly as effective as its injectable counterpart.
Over the past three flu seasons, children ages 2–17 who received their flu vaccination via FluMist have been two-and-a-half times more likely to get the flu than those who have opted for the flu shot.
"The FluMist has been such a popular option among parents because it's a less threatening way to deliver a necessary vaccination to children. Still, it's more important for these vaccinations to be effective than comfortable," says Denise Mulvaney, MD, family practice physician at Riddle Hospital, part of Main Line Health.
It's easy to think of the flu as more of an inconvenience than a health risk, but the flu can still be a deadly virus for adults and children of all ages. Each year, the flu is associated with thousands of deaths, and groups like infants, seniors, and pregnant women can be especially at risk for health complications as a result of the flu.
"Don't let a change in delivery method keep you from getting vaccinated," urges Dr. Mulvaney. "The risks of not getting vaccinated far outweigh the temporary pain and fear that you might experience getting a flu shot."
If this year will be your child's first flu shot, look for other opportunities to distract from the sight and sensation of a needle. Numbing cream or cold packs can help ease the pain following a shot, and welcome distractions like toys, lollipops, or a book can prevent them from focusing on the vaccine as it happens.
For more information on the flu vaccine, you can also visit the Centers for Disease Control and Prevention website.