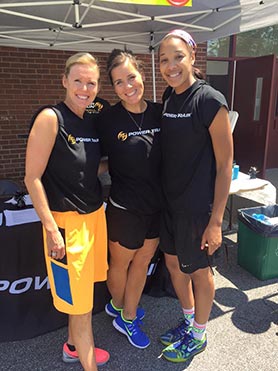 Gail Harrington, Director of Practice Operations for Main Line HealthCare, admits that years of basketball have been tough on her knees. But after an ACL reconstruction with orthopaedic surgeon David Rubenstein, MD, of the Rothman Institute at Lankenau Medical Center, she was feeling ready to get back on the court.
So, as it turns out, was Kate Gardler, a former Saint Joseph's University (SJU) women's basketball player who had recently had her knee replaced by Jess Lonner, MD, of the Rothman Institute at Bryn Mawr Hospital. As the two completed their physical therapy, they had an idea: Find a way to get back on their feet and give back to the community.
Harrington and Gardler paired up with Ashley Robinson, another former SJU player, and began to put together a program. On Saturday, June 18, the trio hosted a free basketball clinic at Power Train Sports in Broomall to offer nearly 150 young athletes tips and techniques straight from former players.
Though the event was free, attendees did have the opportunity to contribute to a GoFundMe account to benefit the family of Akyra Murray, a West Catholic Preparatory High School graduate and basketball player who was a victim in the Orlando attacks in June 2016.
Harrington was impressed with the results.
"What three female athletes can do now with new, strong and stable knees for a girl's family that they don't know, thanks to two Rothman doctors, is incredible. I'm glad we could help make a difference, even in some small way."