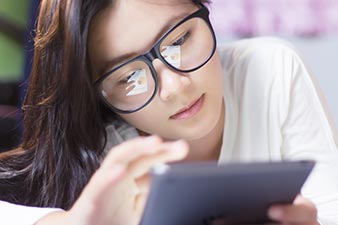 Electronic devices like laptops, tablets, and cell phones have become such an integral part of life for individuals at any age that monitoring your child's usage can feel like an uphill battle.
But as reports of improper use, cyber bullying, and privacy concerns rise, parents are presented with a complicated question: How can I protect my child without making them feel smothered?
"Parents have always struggled to strike a balance between giving their children the independence they need while still keeping them safe. In a digital age, that becomes even more difficult to do," says Cheryl Clarkin, MD, Chief of Inpatient Pediatrics, Nemours duPont Pediatrics at Bryn Mawr Hospital, Main Line Health. "It's no longer just wondering where your child is and who they are with. Now, parents also have to wonder what websites they're visiting, who they're talking to online, what they're exposed to online, and what photos they're sending and receiving, among other things."
These considerations can be overwhelming. Fortunately, many families have instituted rules that make screen time and digital communication work well for them. According to a 2016 Pew Research Center study, 94 percent of parents of teenagers aged 13–17 had conversations with their teen about what was appropriate to share online.
"One of the best things you can do is set forth some ground rules for using digital communication," says Dr. Clarkin. "Every family's policy will vary, but letting your children know that there are rules in place that dictate how they should be using these devices is a good first step."
Want to put your own rules in place? Dr. Clarkin offers a few suggestions below to get you started.
Have regular conversations about proper use of devices
Even with rules in place, it's important to have regular conversations with your family about the proper use of electronic devices.
Use current events or situations that may arise at school or in the news as a way to start discussions around the dinner table. Ask your children questions like, "Do you feel like that was appropriate? Why or why not?" or "What would you have done in that situation?" Open conversations like these allow you to gauge your children's opinions of what's right and what's not.
Limit inappropriate content
Established ratings systems are becoming more available for shows, movies and games to help parents avoid content unsuitable for their children, such as violence, explicit sexual content or glorified tobacco and alcohol use. Many devices offer parental controls to make this easier to keep track of.
Limit time in front of an electronic screen
Excessive media use can lead to attention problems, school difficulties, sleep and eating disorders, and obesity. The AAP recommends that parents establish "screen-free" zones at home by making sure there are no televisions computers or other electronic devices in children's bedrooms. Parents should encourage the entire family to disconnect from devices during dinner.
Limiting screen time to one to two hours per day is optimal for most children, and that should be high-quality content, if possible. Television and other entertainment media should be avoided for infants and children under age 2. A young child's rapidly developing brain learns best by interacting with people, not screens.
Keep laptops and tablets in a central area
Everyone in the family may have their own laptop or tablet, but it can be easier to monitor what your teen is doing if it's being used in a common area.
"Before devices were portable, desktop computers were usually centrally located. Try and keep that idea in place by asking that any time someone is using the laptop or tablet—whether it's for work or entertainment—they use it in a common area, like a study or living room," says Dr. Clarkin.
Disable locations on devices
Location services on electronic devices make it easy for your child to accidentally broadcast their exact location to everyone—even those who they may not want to see it. Unless location services are necessary, like for a GPS app, help your child turn location services off on their social media apps and other websites to prevent other users from knowing their exact location.
Teach children how to block users and report inappropriate behavior
Even if your child is being safe online, that doesn't mean everyone else is. Users can easily follow or connect with people they don't know on social media sites, and even go as far as send them messages without being a 'friend' or connection.
Familiarize yourself with how to block users on social media sites like Twitter, Instagram, Facebook, and Snapchat, and how to report inappropriate behavior if they feel threatened or uncomfortable.
Know the password for your children's devices
Give my parents my password?! Chances are, this one won't go over well with your teen, but it's not unreasonable to ask for access in the event of an emergency. Put forth some additional rules that assure your teen that, unless you are concerned for their safety, you won't log in without their knowledge.
Be a good role model
Of course, the best way to lead your teens to good behavior online is to exhibit it yourself. Post responsibly on social media sites, be open with what you're doing online, and try to limit screen time when you're with family members to show your teens that it's important to spend time offline, too.
At Main Line Health, our pediatricians want to provide the best care for your child, too. We provide all levels of care for children and for all ages—from birth through young adulthood.