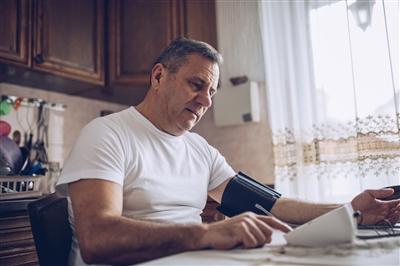 If you're battling high blood pressure, you might be worried that a daily medication is your only option for treatment. Although many patients may need medications, which have a long track record of safety, lifestyle changes can have a major benefit.
Fortunately, medication isn't your only option for treatment.
"Medication can be effective in helping to regulate blood pressure, but lifestyle factors like diet and regular exercise are equally as important," say Don Ferrari, MD, FACC, a Lankenau Heart Institute cardiologist at Main Line Health.
Below, Dr. Ferrari explores the many ways you can keep your blood pressure under control.
Adjust your diet
Taking control of your diet is one of the best ways to control your blood pressure. That's the idea behind the well-known DASH diet, named for its approach to lowering blood pressure. The Dietary Approach to Stop Hypertension calls for dietary adjustments including:
More fruits, vegetables, whole grains and low-fat foods
Reducing sodium by eating fewer processed and packaged foods
Choosing poultry and fish instead of red meat
Fewer desserts and concentrated sugars
More foods that are high in magnesium, potassium, and calcium
If your blood pressure is too high, your physician may recommend the DASH diet.
Exercise
While diet is important, it's only one aspect of a healthy lifestyle. Exercise is important too.
"Aerobic exercise can help make your heart stronger and improve your cardiovascular system as a whole," says Dr. Ferrari. "You don't have to become a marathoner overnight to reap the benefits, either. Start small with daily walks around the neighborhood, stationary biking, or water aerobics, which is gentle on joints. Even doing fifteen minutes now, then fifteen minutes later...it all adds up."
Limiting alcohol intake
Enjoying a glass of wine after a stressful day or a beer at happy hour seems harmless, but those drinks can add up and take a toll on your blood pressure levels. In addition to following the DASH diet, anyone who is trying to lower their blood pressure should limit alcohol intake to no more than one serving of alcohol per day.
What's one serving? For men, that means no more than two drinks per day and for women, no more than one drink per day. One drink is equal to 12 ounces of beer, eight to nine ounces of malt liquor, five ounces of wine, or 1.5 ounces of other spirits, like gin or vodka.
Quit smoking
Although a poor diet, lack of exercise, and other factors can all gradually affect your blood pressure, it's smoking that causes one of the most immediate spikes in blood pressure levels.
"Smoking temporarily raises your blood pressure almost immediately, as each cigarette causes a spike in blood pressure levels in the minutes after you've finished smoking," explains Dr. Ferrari. "The chemicals in these cigarettes also causes damage to your arteries, which can lead to an increase in heart disease risk."
If you're a smoker, one of the best things you can do to keep your blood pressure in check is quit. Research the availability of local smoking cessation classes and groups for other individuals who have quit to find a network of support.
Not a smoker? You should still be mindful of secondhand smoke, which has also been shown to increase the risk of high blood pressure and heart disease.
Control stress
Between a demanding career, a social life, and the demands of partners and children, it can be difficult to juggle priorities without getting overwhelmed. And while a little stress is normal, too much stress can lead to elevated blood pressure levels.
"Stress can be dangerous for our health, particularly if it's dealt with in an unhealthy way, like eating unhealthy foods or turning to alcohol," says Dr. Ferrari. "It's important to find a healthy way to cope with that stress."
Set aside a half hour every day with friends or family to unwind, make time for yoga or meditation, or vow to read a book before bed every night.
Sometimes lifestyle changes may not be enough to control high blood pressure. In these cases, your doctor can help you determine what treatment is right for you, and recommend a cardiologist, if necessary.
Main Line Health serves patients at hospitals and health centers throughout the western suburbs of Philadelphia. To schedule an appointment with a specialist at Main Line Health, call 1.866.CALL.MLH (225.5654) or use our secure online appointment request form.