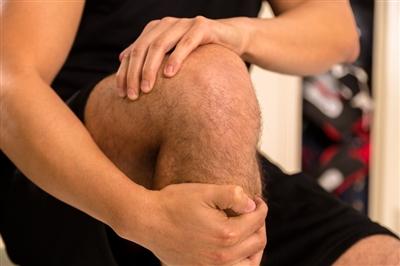 Getting new joints is old news. Thanks to years of bending, lifting, stretching, running, and daily wear and tear, many American are facing the possibility of knee replacement surgery.
Within the past decade, new technologies and improved surgical techniques have helped enhance the surgery experience and recovery process for joint replacement patients. And while these improvements have allowed for a comfortable life following surgery, taking preventative steps to control knee pain is still the best way to ensure long-term joint health.
"A knee replacement can certainly be beneficial but, as often as possible, the goal is to help patients keep their knees healthy and avoid undergoing surgery until absolutely necessary," says Christopher Dodson, MD, orthopaedic surgeon with Rothman Institute at Bryn Mawr Hospital, part of Main Line Health. "By making some lifestyle changes and adapting the way we use our knees every day, it can be easy to add some more years to them."
Below, Dr. Dodson explores some of the most common ways to protect your knees.
Maintain a healthy weight
Carrying around excess weight can take its toll on weight-bearing joints, like your knees. But that's not the only reason that you should keep an eye on the scale. Research suggests that inflammation associated with weight gain can contribute to trouble in other joints, too, like your hands. Keep your weight under control with a healthy diet rich in fruits, vegetables, lean meats and whole grains.
Wear the right sneakers
The average person will cover thousands of miles in their lifetime, and shoes that are too tight, too loose, or that lack support can put you at risk for joint pain or injury.
While a consultation with a podiatrist or visit to a specialty shoe store can help determine which sneaker is the right choice for you, a general rule of thumb is to look for shoes with flexible, bendable soles, not stiff ones. You may also want to shop for shoe orthotics, molded inserts that can ease knee pain.
Try strength training and stretching
Joint pain can be a common problem for anyone who's spending time pounding pavement on weekly runs or participating in CrossFit classes. Aerobic exercises like these are high-impact, and the repetitive pounding can take a toll on your joints. If you're starting to notice symptoms of joint pain, try substituting some of your aerobic exercise sessions for strength training and stretching sessions.
"Upper and lower body strength exercises can help you build muscle to support and strengthen your joints, and stretching routines—like yoga—can help improve your range of motion and flexibility, which decrease your risk of injury, and improve joint pain," explains Dr. Dodson.
Add some variety to your workouts by supplementing aerobic workouts with stretching or strength training exercises, or substitute one run per week with 30 minutes of yoga or some light weight-lifting.
Quit smoking and limit alcohol use
It might be surprising to hear that smoking can affect your joints, but the use of tobacco products has been shown to increase the risk of osteoporosis, which can lead to joint problems. If you've got a smoking habit, pursue smoking cessation classes to improve your joint and overall health.
It's also a good idea to limit your alcohol intake, as too many alcoholic beverages can increase your osteoporosis risk. Men shouldn't drink more than two drinks per day, and women should not have more than one.
Pay attention to pain
This may seem obvious, but many people choose to ignore pain rather than acknowledge it.
"Many people assume that joint pain is normal, and that there's nothing they can do about it; that it's part of life," says Dr. Dodson. "But the sooner you address joint pain that's bothering you, the higher likelihood there is that there may be non-surgical treatment options available."
Rather than putting off pain until it becomes too severe to ignore, make an appointment with your physician to discuss your symptoms.
From evaluation and treatment through recovery and rehabilitation, Main Line Health's orthopaedic professionals are committed to providing the best possible care. Visit our website to learn more about Main Line Health's orthopaedic services.