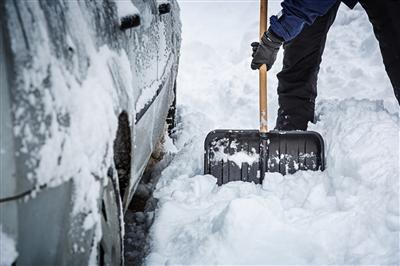 Sure, that white stuff can seem innocent, but if it's heavy—watch out.
One cubic foot of damp new snow can weigh up to 12 pounds. Lifting that much weight can make clearing your driveway and sidewalks dangerous. Moving snow stresses your body and, more specifically your back. Shoveling heavy snow can cause muscle fatigue, strain, vertebral disc damage, and spinal fractures.
Before you reach for the shovel this season, follow these strategies to prevent back pain and strain.
Prep your body by warming up and stretching
Two simple exercises that can help prevent lower back pain and strain are called the press-up or backbend.
A press-up involves laying your body on the ground, stomach facing down. Place your palms flat on the floor, and lift your head, neck, chest, and stomach slowly off the ground. Retain the position for a few seconds, and then slowly lower. You can repeat this a few times.
A backbend is a simple exercise that can be performed during shoveling to ward off pain. Simply place your hands on the sides of your lower back, keeping your head and neck neutral, and bend backwards slowly, pushing your chest out slightly.
In addition to these exercises, shoveling snow before noon also increases your risk for injury. This is due to a naturally occurring process called nocturnal imbibition, wherein the volume of fluid within the discs of your back is greatest in the morning hours, which increases your risk for mechanical issues and injury. Whenever possible, wait until early afternoon to shovel.
Watch your form
Finally, pay attention to your shoveling form. Avoid rotating your body to toss snow to the side, as bending over and rotating simultaneously can be a dangerous combination for back pain and injury. The American Academy of Orthopaedic Surgeons recommends squatting with your legs apart, knees bent, and back straight, and lifting with your legs. Remove small layers of snow at a time, especially if it is heavy.
By following these techniques and listening to your body when it's experiencing pain, you can enjoy winter without being sidelined by back pain.
Don't put your heart at risk
These techniques can help you shovel safely. But, if you have heart disease or a history of heart problems, leave the shoveling to a family member or ask a neighbor or local snow removal service for help. Toughing it out could put your heart at risk.
"Shoveling snow raises your blood pressure and your heart rate more quickly than other outdoor activities, like raking leaves or gardening. If you have a history of heart problems, it's best to enjoy the snow from indoors and not risk a cardiac event by helping clear it outside. If you must help, opt for a snow blower and only go out in 10 or 15-minute intervals. Never go out when you're home alone," adds Michael DeAngelis, MD, Lankenau Heart Institute cardiologist at Lankenau Medical Center, part of Main Line Health.
If you notice any of the following symptoms, seek emergency medical attention immediately:
Chest pain or pressure
Shortness of breath
Dizziness or lightheadedness
Jaw, arm, or leg pain
Heart palpitations
To schedule an appointment with a specialist at Main Line Health, call 1.866.CALL.MLH (225.5654) or use our secure online appointment request form.