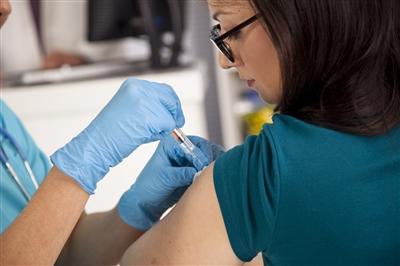 From baby-proofing the nursery to a monitor with night vision, parents spend much of the months leading up to a new baby's arrival ensuring their little one will be kept safe and healthy. But, in the midst of keeping up with the latest safety features, don't overlook one of the best ways to prep both mom and baby for optimal health: a pertussis vaccination.
"The Tdap vaccine against pertussis is required for all women during their third trimester of pregnancy to ensure that both they and their babies are protected from the effects of whooping cough," explains Jennifer Stuck, DO, OB/GYN of Paoli Hospital.
Dr. Stuck says it's important to take note of the shift from previous recommendations, which stated that the vaccine was only required for women who hadn't received it during previous pregnancies. Now, to ensure full protection, the vaccine is required during every pregnancy.
But, if vaccination is so important, why wait until the third trimester?
"Vaccinations are distributed late in the pregnancy because this is when protective antibodies are at their highest levels and when the baby will reap the most benefits. These antibodies are then passed on to the baby from the mother," explains Dr. Stuck. "Infants, especially, need these benefits because they have a greater risk of complications and hospitalization as a result of whooping cough."
This risk of complication and hospitalization is at its highest for infants who are six months of age and younger, which is why vaccination during pregnancy is so important. Vaccination during pregnancy ensures the baby is protected during the first months of his or her first months of life, before they can receive their first pertussis vaccine.
"Once an infant is two months' old, they can receive the DTaP vaccine, which protects children six years of age and younger from whooping cough," says Dr. Stuck. "Even if a mother has been vaccinated during pregnancy, a child will need the DTaP vaccine, but the benefits of a Tdap vaccine will keep them protected until then."
Pertussis protection starts at home
In addition to vaccinating infants and expectant parents for pertussis, it's also important to ensure that family members and other family friends who will be spending time around your newborn are up-to-date on their pertussis vaccinations.
Research has determined that, in most cases, babies catch whooping cough from others in their home, like parents, siblings, or grandparents. Protect your new baby by ensuring that anyone who is coming in close contact with him or her has received their Tdap vaccine. If they haven't, ask that they get vaccinated at least two weeks prior to meeting your new baby.
"Although vaccination during pregnancy and a subsequent DTaP vaccine during a newborn visit is the best way to protect your son or daughter from whooping cough, it's important to make sure those around you are not increasing their risk," says Dr. Stuck. "This whooping cough vaccination can also be beneficial for some members of the family who are older and at a higher risk for complications."
If you have questions about your eligibility for the pertussis vaccine, or whether or not your loved ones should be vaccinated, talk to your doctor.
Main Line Health's team of obstetricians offer complete, family-centered care for women with normal and high-risk pregnancies, which includes monitoring and testing during pregnancy. Visit our website to learn more about our OB/GYN services and find a physician in your area.