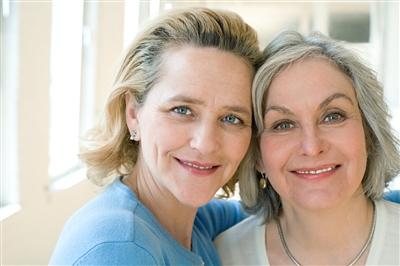 Finding a doctor isn't a one-size-fits-all process. You should look for someone who you feel comfortable with, has convenient hours, and the experience to treat your specific health needs.
In particular, gay and bisexual women may want to consider finding a health care provider who they can build a trusting relationship with and who understands how to best care for them.
"Your doctor is your health advocate, and someone you should feel comfortable going to with your questions and concerns. Still, there are topics that women feel uncomfortable talking about, and that's especially true for women in the LGB community, who may feel like they're being judged or misunderstood," explains Joanne Glusman, MSW, LSW, social worker at Main Line Health and co-chair of the Bryn Mawr Hospital Diversity, Respect and Inclusion Committee.
"There is often a misconception among patients and doctors that gay and bisexual women don't need the same health screenings and annual care that heterosexual women do, but that's not the case," explains Becky Souder, DO, primary care physician with Main Line HealthCare Family Medicine in Paoli.
In addition to the health screenings that all women should undergo regularly, such as pap smears, pelvic exams, and mammograms, gay and bisexual women should pay attention to additional topics including:
Heart disease
Women in this community, especially those with limited support, tend to be more likely to be overweight and have higher rates of tobacco use and alcohol consumption. These risk factors can significantly increase the risk of heart disease, particularly among women, who are already more at risk for the disease than men. Regular heart health screenings and management of these risk factors, like smoking cessation, a healthy diet, and a regular exercise routine, are important considerations.
Depression, stress and anxiety
Unfortunately, many individuals—both men and women—still lack support from family members and friends regarding their orientation. This can lead to issues such as depression, stress, and anxiety.
"Mental health issues are another concern that is higher in the LGB community, especially for those without a supportive environment. This can lead to feeling isolated or cause individuals to turn to unhealthy coping mechanisms," explains Dr. Souder. "It's important for doctors to take the time to talk to their patients about the options available to them in terms of support."
Cancer
Screenings for breast, lung, cervical, and colorectal cancer are important for all women, but women in this community should be especially aware of their cancer risk.
"One of the reasons why LGB women may be at a higher risk is that, while some may choose to have children, fewer women in this community become pregnant," explains Dr. Souder. "The hormones that are released during pregnancy and breastfeeding can protect against certain types of cancers."
For this reason, women should be especially diligent about regular cancer screenings and be aware of their family history of cancer.
Sexually-transmitted infections
Regardless of your sexual orientation, all sexually active women are at risk for sexually-transmitted diseases and infections. Women who have sex with women can transmit STD's, including bacterial vaginosis, human papillomavirus (HPV), trichomoniasis, herpes, HIV, and syphilis.
These conditions can typically be detected via a pelvic exam, but some may require additional testing, which is why it's important to visit your Ob/Gyn for an annual visit or if you have any concerning symptoms.
Starting a family
When it comes to starting a family, gay and bisexual women encounter the same questions, concerns, and struggles that many heterosexual women do, and finding a doctor or fertility specialist who can meet those needs and answer their questions is important.
"Starting a family is a special milestone for any parent, and it's important for women to find a doctor who they feel comfortable talking to and who can support them on the journey from conception to pregnancy to questions about intimacy after baby," says Dr. Souder.
Finding a doctor
Above all, it's important to find a doctor who you feel comfortable talking to about issues that are essential to your health.
"At Main Line Health, we are focused on continually educating and raising awareness among our staff regarding equity of care for all patients," says Glusman.
In addition to the care provided to LGB patients, Main Line Health understands that transgender patients require a care plan that is tailored to meet their health care needs. In the future, we'll offer more information for transgender patients and their loved ones on factors to consider when choosing a health care provider.
An additional resource for those who care about someone in this community is the Parents, Families, Friends, and Allies United with LGBTQ (PFLAG) People's website, which offers more information on a variety of LGBTQ issues.
Main Line Health offers a comprehensive program of women's health services to meet your needs and those of your family. Our health care experts are uniquely qualified to address the special concerns of all women. To stay up-to-date on our health news and events, follow along with Main Line Health on Facebook and Twitter.