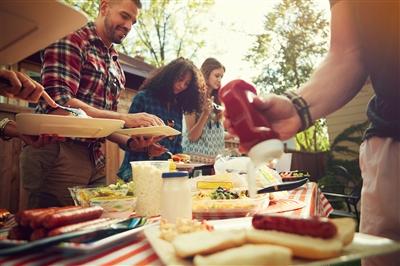 We asked four Main Line Health nutrition pros what advice they have for anyone who is watching their waistline this weekend, and they told us which dishes they'd skip, and which ones they'd pick. Check out their selections below.
Lynn W. Nichols, medical nutrition therapist at Riddle Hospital
Skip the: High-calorie sides, like macaroni salad, pasta salad, cheese, pepperoni and potato chips. These provide very little nutritional value and a lot of carbohydrates with very little fiber, so they won't fill you up.
Pick the: Green salad with dressing on the side, or a vegetable pasta salad that is primarily veggies, like tomatoes, cucumbers, and peppers with a small amount of whole grain pasta. Fruit salad and fruit kabobs are another nutritious option that make great sides or dessert. Better yet—grilled fruit is delicious! It can be a great side or topping for grilled chicken breasts or chicken kabobs.
Try the: Grilled spicy watermelon, Mediterranean diced salad or Strawberry spinach salad.
Mary Ann Martin, medical nutrition therapist at Paoli Hospital
Skip the: Red processed meat. Hot dogs, hamburgers, and steaks are going to be on the menu at a lot of backyard parties this season and, in moderation, these meats are okay to have. But red, processed meats can contribute to an increased risk of cancer, especially when they're cooked at a higher temperature and charred.
Pick the: Fish. Grilled tilapia tacos with chipotle lime dressing are a great alternative to red meat. If you're not a fan of seafood, try a veggie alternative like barbecue veggie kabobs. I would also recommend fresh produce, as it is low calorie, low sodium, high fiber, rich in vitamins and minerals and--of course!--tasty.
Try the: BBQ Roasted Salmon, Lime shrimp kebabs or Mini Greek chicken kabobs.
Judy Matusky, RD, LDN, nutrition specialist at Main Line Health
Skip the: Hot dogs, hamburgers and mayo-heavy potato salads. If you just can't pass up a hamburger, opt for lean hamburger with lettuce and tomato, and skip the bun.
Pick the: Grilled summer vegetables. Zucchini, eggplant, and tomatoes are delicious summer produce. And, of course, a summer barbecue isn't complete without corn on the cob. When it's grilled, corn on the cob is so sweet you won't miss the butter and salt. I also like grilled fruit for dessert, with a scoop of ice cream or angel food cake.
Try the: If potato salad is a Fourth of July staple, try our Rosemary vinaigrette potato salad.
Skip the: Pie. I know dessert can be a favorite for many people, but you can satisfy your sweet tooth with something much healthier.
Pick the: Frozen yogurt, or fresh fruit salad. I prefer to freeze my containers of Greek yogurt, so it tastes like I'm having ice cream or a frozen treat.
Try the: Floating strawberry parfaits and Red, white and blue berry tarts.