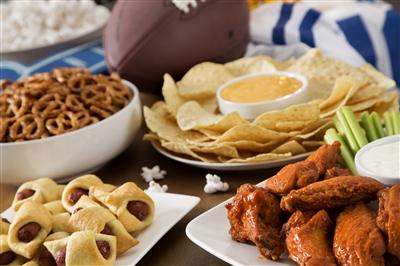 Sundays may be for football, but the cuisine tend to be more popular than the main event. And with tempting options like creamy, cheesy dips and chicken wings, burgers, and sodium-heavy hoagies, a viewing party buffet table can easily be a dieter's downfall. But then, who wants to pass up their favorite snacks?
Fortunately, we can help. We turned to our nutrition team to figure out how to avoid a calorie binge and still indulge in your favorite treats during football season festivities.
Judy Matusky, RD, LDN, nutrition specialist at Main Line Health
Skip the: Chicken wings—I just don't understand the appeal. They have very little meat, but lots of skin, fat, and tendon. No matter how many you eat, you'll probably never feel full. And with over 100 calories per wing, not including the buttery buffalo sauce and rich blue cheese dressing, you'll easily run up a calorie tab into the thousands.
Pick the: The Classic Layered Dip with a Twist: For a portion-controlled drip, take a small clear glass or plastic cup and layer vegetarian re-fried beans (excellent source of cholesterol-lowering fiber), guacamole (heart healthy plant fats), plain Greek yogurt (a creamy alternative to sour cream) and salsa, then top with chopped tomatoes, black olives and scallions. Add some crispy corn tortilla chips for dipping, and you'll get credit for eating a whole grain, too.
Lynn Nichols, outpatient dietitian for the Diabetes Management Program at Riddle Hospital
Skip the: Sour cream and onion dip with potato chips. The dip tends to be high in fat, especially saturated fat, and chips are high in sodium.
Pick the: Hummus and fresh vegetables. Hummus is a great alternative to chip dip, comes in a variety of flavors, and is a source of protein, fiber, and several vitamins and minerals. Paired with fresh vegetables like broccoli, carrots and peppers, it's a win-win snack.
Try the: Soybean hummus, from Cooking Light magazine. It's green for the home team and very healthy!
Chris Hurley, outpatient nutrition counselor for the Diabetes Management Program at Main Line Health Newtown Square
Skip the: Wings. Between the skin and the fat? Yuck! Also, these aren't great for your heart or cholesterol levels.
Pick the: Zoodles! You can buy zucchini noodles at the store, or you can make them at home using a veggie spiralizer. For extra flavor, top it with shrimp or chicken and toss it with your favorite pesto sauce.
Try the: Guilt-free garlic Parmesan zucchini Noodles from inspiredtaste.net. All your favorite flavors but veggies, too!
Mary Ann Martin, outpatient nutrition counselor for the Diabetes Management Program at Paoli Hospital
Skip the: Ultimate Nachos, which can easily pack more than 1,200 calories.
Pick the: Whole corn tortilla chips and salsa, which has significantly less calories. I'd also recommend veggies and hummus, which clocks in at less than 150 calories per serving.
Try the: Cauliflower pizza bites from allrecipes.com. It has the flavor of a football food, without the extra fat and calories. A win-win!