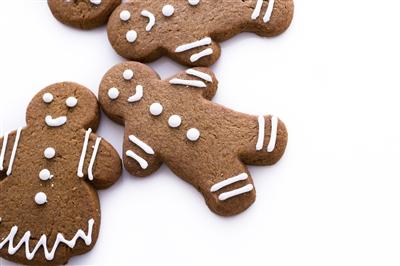 Even the most diligent dieters and fitness buffs can be derailed by the holiday season. From office parties to 'just because' meetings with old friends, it's easy to go a little overboard on appetizers or skip the gym to get some shopping done. And while there's no reason to feel guilty for letting yourself enjoy the season, there are plenty of small steps you can take to help keep yourself from going overboard.
Below, Lynn Nichols, RD, LDN,CDE outpatient dietitian at Riddle Hospital, part of Main Line Health, has tips for making your holiday parties healthier without skimping on taste.
Don't skip a meal: Many people who have a big meal planned will skip other meals during the day to save calories. That can be a dangerous trap. Skipping meals can make you hungrier and more likely to binge later on. Keep your body on track by eating the same meals you normally would. If you feel like you ate too much after a holiday party, focus on getting back on track the next day with veggies, protein, fiber and your regular exercise routine.
Don't skimp on sleep:Remember all those cookies you hid from the kids? You're more likely to binge on them if you're tired. Although it's not always easy this time of year, try to stay as close as you can to a regular bedtime. Not only will sleep help keep your cravings in check, it can also help keep you calm and positive in what can often be a stressful season.
Do keep your hands full: When your hands are empty, chances are you're more tempted to grab the closest snack. Instead of mindlessly eating, keep your hands full with a glass of water in one hand and your purse or phone in another. Another way to prevent mindless eating? Stand far away from the appetizer table. The more obstacles there are to getting something to munch on, the less likely you are to eat things you're not really hungry for.
Don't set unrealistic expectations:Trying to lose weight? Don't push yourself too hard during the holidays. Instead of challenging yourself to lose weight, be satisfied with maintaining your weight or focus on non-scale related goals like only having one piece of cake or choosing only one appetizer to nosh on.
Do drink plenty of water: Drinking a glass of water before a big meal or night out can help keep you hydrated, but it can also help you feel fuller faster. Instead of showing up to a party with grumbling stomach and eating the first thing you see, a glass of water can help keep hunger at bay.
Do volunteer to bring your own: Take control of what options you have by volunteering to bring some healthier options, like slimmed-down sweets or a festive veggie tray. Knowing there are healthy options there can help you feel less intimidated.
Do know your options: Instead of starting at the beginning of a line of entrees or appetizers, take a walk down the line to see your options. This can give you a better idea of which foods to pick and which to pass on. Choose those foods that are special to the holiday and avoid those you can have any day.
Don't overdo it on the toppings: Butter, gravy, icing, and other heavy toppings can easily increase the calorie count on foods. Whenever possible, skip these toppings or put a small amount on the side. A small taste can go a long way. They don't add much to your meal, but they will add to your waistline.
Making healthy choices all year
Need some guidance on how to maintain a healthy diet? Schedule an appointment with a Main Line Health registered dietitian. Many insurance providers offer up to six nutrition counseling visits per year at no additional cost to you. Check with your provider to see what's covered.
To schedule an appointment with a specialist at Main Line Health, call 1.866.CALL.MLH (1.866.225.5654) or use our secure online appointment request form.