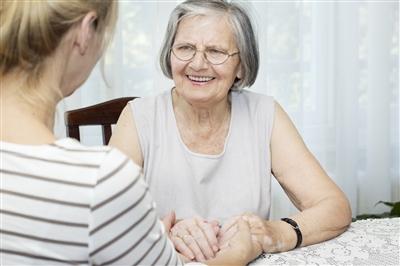 Millions of adult children have taken on a new role as their parents age: full-time caregiver. Helping coordinate doctors' appointments and home care services has become part of daily life. But not every parent needs a caregiver.
"Not everyone is going to need a full-time caregiver, but it's still important to be able to recognize when your parent might need help caring for themselves," says Michele Boornazian, DO, who specializes in internal medicine and geriatrics at Riddle Hospital. "Some older adults are unwilling to ask for help because they don't want to burden their children, and some may not recognize that they need help or are ashamed to ask for it."
Below, Dr. Boornazian explains a few things to consider when you're visiting an aging parent.
Are they taking care of themselves and their home?
During visits, take note of your parents' physical appearance: Are they brushing their teeth? Are they bathing or showering regularly? Are their clothes wrinkled or disheveled? Have they gained or lost weight? Are they sleeping okay? Ask questions like these and be aware of any changes to their physical appearance, as some of these could be signs of dementia, depression, or physical impairments.
The same goes for their environment: keep an eye out for piles of laundry, unopened bills, food left out, or especially unclean living conditions.
Are they safe?
Slips and falls are a health risk for anyone, but especially for an aging population. Make sure your parents' safety isn't being compromised by loose rugs, narrow stairways and hallways, hardwood floors, or furniture and chairs in a main walkway. Talk to them about assistive devices or in-home services if they have trouble getting around.
When was the last time they visited the doctor?
Many adult children are aware of their parents' doctor's appointments but, if you are not, get a schedule of their upcoming appointments and ask if they'd like someone to accompany them. Also, keep an eye on their medications. Do they need refills? Are they taking them at the right time and as often as needed?
Are there any behavioral changes?
Many older adults suffer from depression, but may not show their feelings when they're around family. Keep an eye out for subtle hints of a change in mood, and ask questions about their social life: Are they connecting with friends and neighbors? What activities do they do during the day? It may be beneficial to help them get involved in a local organization or club to lift their spirits.
Finding support in your community
As we get older we all desire to live as healthy and as independently as possible, and yet, adjusting to a new phase of life often requires support and guidance. Main Line Health is here to serve as your dedicated partner, offering access to an array of health care services and community-based resources. We are committed to serving seniors, their families and caregivers by providing free information and friendly assistance that meets your specific needs or preferences.
If you have a health care need or question for yourself or a loved one, contact Main Line Health's Senior Care Line at 484.580.1234 or mlhseniors@mlhs.org. Our licensed social workers can answer questions and connect callers with health care services and community organizations.